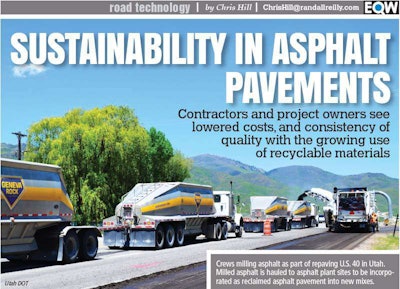 The conversation about asphalt pavement sustainability covers a broad spectrum of variables. Sustainability not only includes the longevity of a road, but the inputs, such as materials and production process and all the factors associated with them.
The main focus, however, comes back to recyclability of materials, including primarily reclaimed asphalt pavement (RAP) and recycled asphalt shingles (RAS), and the type of asphalt placed – warm-mix asphalt (WMA).
"Asphalt pavements are already recycled at a greater rate than any other material," says Dan Gallagher, 2017 NAPA chairman and vice president of Gallagher Asphalt, Thornton, Illinois. "But we are not content with that. We continue to seek out and put to use practices and technologies that deliver high-performing roads, both in terms of drivability and sustainability."
Asphalt industry survey
To quantify this effort, the National Asphalt Pavement Association (NAPA) in conjunction with the Federal Highway Administration, has been conducting a survey of recycled material and WMA used in the industry each year since 2009.*
"The more companies and plants participate in the survey, the more accurate the assessment of the asphalt pavement industry's sustainability," says Kent Hansen, NAPA director of engineering, who administers the survey. "The findings of this survey help demonstrate to road owners and the driving public the opportunity to expand use of recycled materials and warm-mix technologies, which have environmental and economic benefits."
The most recent survey, out in March this year, shows the growing trend seen in the summaries of these reports: Contractors are continuing to use more recycled materials at higher percentages as part of mixes.
The results show 99 percent of asphalt mix reclaimed from old pavements is being used in new asphalt pavements. The amount used in aggregate was 5.5 million tons, a significant drop from 2014's 8.5 million tons. RAP landfilled reached 1 million tons, also a significant difference, but higher than the 200,000 tons in 2014.
With the amount of RAP used, NAPA estimates the need for asphalt binder was reduced by 3.7 million tons and the need for aggregate dropped by 70.5 million tons. The value of this reduction is estimated at $2.4 billion.
RAP use by state
Respondents from twelve states reported using at least 25 percent RAP in asphalt mixes, with 19 states reporting usage in the 20-29 percent range and 18 states reporting usage in a range of 15-19 percent.
Other materials and WMA
According to the NAPA survey, states used about 1.93 million tons of RAS in 2015, which is about the same as in 2014, but 175 percent greater than the 710,000 tons used in 2009.
By using RAS, NAPA estimates that 2.1 million barrels of asphalt binder and about 965,500 tons of aggregate were saved, valued at roughly $194 million.
Respondents added that other recycled materials used in asphalt mixtures included ground tire rubber, blast furnace slag, steel slag, cellulose fibers, as well as less common used fly ash and foundry sand.
Contractors also told NAPA that they used 119.8 million tons of WMA in 2015, a 5 percent increase over the 2014 season and 614 percent higher than the 2009 season, when 16.8 million tons were produced.
Contractor benefits
Of the 214 projects honored with NAPA's 2016 Quality in Construction (QIC) Award at their 2017 annual meeting, roughly 30 percent used RAP. Out of the 77 companies that received awards, a little more than half used RAP.
The amounts used mostly hovered around the 20 percent range, but one project in Florida used up to 45 percent RAP.
Ajax Paving Industries of Florida in North Venice, received two QIC awards. One project used 30 percent RAP in the structural course of the company's milling and resurfacing work on State Route 776 in Port Charlotte.
Vince Hafeli, vice president for Ajax, says the company has been incorporating recycled materials for more than 40 years. The biggest challenge? Dealing with the percent fines in RAP.
Ajax successfully manages RAP use by processing most of its recycled asphalt internally. "We began processing the majority of our recycled asphalt a couple of years ago," he says. "We now find that we are able to better control the process, which has produced a more consistent product."
Hafeli reports using recycled materials benefits his company on both macro and micro scales. "It makes us more competitive, and it also produces a mix that is less tender and aids in the compaction process," he says. Ajax finds that using 30 to 40 percent RAP in their mixes is the "sweet spot."

Reith-Riley Construction, Lafayette, Indiana, won a QIC award for their work on I-65 in White and Jasper counties. The company used both RAP and RAS in the asphalt mixes to cut down on virgin aggregate, liquid asphalt and filler.
Jason Walters, area QC/QA manager for the company, says the biggest challenge he finds in working with RAP is keeping it broken up and loose. "It likes to harden back together after processing, so late in the summer it has to be broken up daily with a loader or excavator," he says. "Steel screens, we call them grizzlies, are placed on cold feed bins to keep chunks out. Still, occasionally a chunk will slip through and cause a blockage in the bin."
Walters explains RAP pile management is a top priority in the successful use of the material. "Know what is in the pile," he says. "Test for gradation, asphalt and the bulk specific gravity. If you know those things, mixes can be adjusted to easily accommodate it."
Walters says cost is a major benefit. "We're able to reduce final mix prices. Using less new materials has multiple benefits," he adds. These include a reduced load on local quarries, and a reduction of how many trucks are needed to haul raw materials."
Walters says contractors in Indiana have moved to using binder replacement instead of a RAP percentage. He sees 20 percent to 25 percent as being the optimal binder replacement portion.
"That could mean anywhere from 15 percent to 40 percent RAP," he explains. "Anything above and I feel there is too little virgin asphalt content to bind things together well."
Walters believes RAS is a good fit for stone matrix asphalt mixes, because these mixes require fiber and mineral filler.
"The composition of RAS is fiber, mineral filler, asphalt and sand," he reports. "They have helped reduce or completely replace the need for raw fibers and mineral filler. Care just needs to be taken with the asphalt replacement side of it and not being overly aggressive reducing virgin asphalt."
Full-depth RAP
Superior Paving in Gainesville, Virginia, used up to 35 percent RAP in project mixes for its QIC-winning project on State Route 17 in Stafford County. On a heavily-travelled route that included intersections and utilities, the job involved full-depth widening, grading and overlay.
The company's biggest challenge in using RAP is the variability of blending different asphalt types with different particle shapes, aggregate sizes and liquid asphalt contents, says Goodwin Moore, marketing representative for Superior Paving.
"If you do not mix and build your RAP stockpiles properly, the inconsistences in the RAP will show themselves and your finished product will be affected," he says. "With proper testing and monitoring of stockpiles, this challenge gets mitigated."
The percentage of RAP that is optimal in a mix is best determined on a case-by-case basis, Moore says. "It's dependent upon a handful of factors, such as aggregate properties, type of plant and type of mix you are producing. Our goal is to produce the highest quality of mix, regardless of cost."
The positive environmental impact is a top benefit of using recycled materials, Moore says. "It also gives our industry the opportunity to produce a more cost effective mix for the end user."