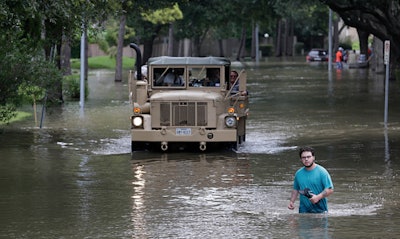 The Arizona Department of Transportation (ADOT) is waiving fees and expediting permits so commercial vehicles hauling oversize loads can get needed equipment to Texas as quickly as possible following the aftermath of Hurricane Harvey.
ADOT says this effort began over the weekend so trucks hauling eight emergency generators could depart a Caterpillar facility in Phoenix for Fort Hood, Texas, about 200 miles northwest of Houston for used by crews responding to the storm.
Officials with ADOT's Enforcement and Compliance Division, which operates commercial ports of entry, checked the weight of the trucks to be sure they could safely cross all bridges on Interstate 10, then contacted ADOT's commercial vehicle port of entry in San Simon and elsewhere along the route to report that the trucks wouldn't have the usual permits but should be allowed to continue.
"Arizona is doing everything it can to help the people who are struggling after this hurricane," ADOT Director John Halikowski said. "As a transportation agency, we can help get equipment there efficiently and safely."
The process will remain in place for similar transports as long as the presidential disaster declaration remains in place, though ADOT may have to change routes if loads are determined to be too heavy for certain bridges. All restrictions normally applying to oversize loads will remain in place.
ADOT is coordinating with other state departments of transportation to share oversize load requirements and keep shipments moving to Texas as efficiently as possible.