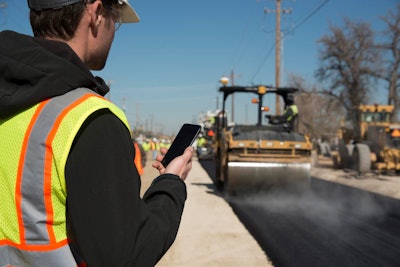 Timing on an asphalt paving job is everything. Trucks need to be loaded with the right type and amount of hot mix, deliver it to the jobsite, dump the mix into a paver or material transfer vehicle and then be on their way to do it all over again.
The things that could go wrong—and thus impact production and a potential bonus—are myriad. The truck could have gotten the wrong mix, it could be stuck in traffic, it could spend too much time waiting in line at the paver, etc. Not to mention the headache of load tickets.
"The ability to keep the paver moving gets you into a bonus situation," says Dann Rawls with Cat.
Cat's new eRoutes process monitoring solution, previewed at World of Asphalt this year, gives contractors visibility to the entire asphalt production process, Rawls says. "They now have an opportunity to influence it."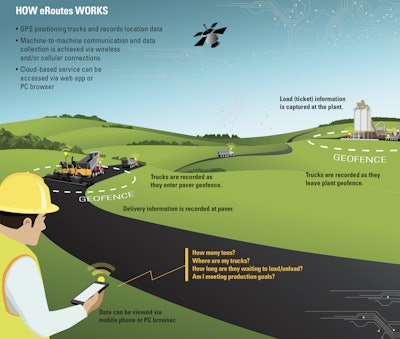 Rawls says that half of the trucks used in asphalt paving are contracted out. "Finding trucks and drivers who will do the job that you're paying them to do is a challenge," he says. "This will help you get a handle who are the good drivers, create some metrics and perhaps devise some incentive programs," he says. You'll also be able to compare company drivers with contracted drivers.
The eRoutes solution takes the locations of the asphalt plant, truck and paver and merges it with electronic ticket data from the plant. "By doing that, you get a good handle on cycle times, and where you might be losing time," Rawls says. Alerts can be set up to for specific parameters you want to track.
Cat's technology partner Trimble makes the hardware required for the plant, trucks and paver. A geofence is created around the job, the paver and the plant. Each truck has a GPS unit so every time it reaches a geofence, it's recorded. Ticket capture data software creates electronic tickets when each truck is loaded.
"We know when the truck left the plant, where they are in route to the jobsite, when they got to job and when they got to the paver," Rawls says. "You can quickly see how much time was taken during each part of the cycle and where you may be losing minutes."
eRoutes uses both a mobile and a desktop platform. In the mobile app, the concentration is on giving users information they can use to keep the job humming. The desktop platform provides an overall view and accounting of all projects.
The app's mobile dashboard, for example, will show where trucks are in relation to the plant and paver. It shows the arrival times and scale weights of each truck updated continuously in real time. You can see the tons per hour that are going to each job. The data will also help manage asphalt silos and scales. "If you can get the right mix at the right time, you can go a long way to keep that paver moving," Rawls says.
One display shows a cycle timer for each connected truck – the time spend in loading, hauling, dumping and return. It will show you the average of the last five cycles, and how the current cycle compares.
If, for instance, you planned a 27-minute cycle and reality shows a 43-minute cycle, continuing at that pace means that a three-day paving job becomes a five-day job, Rawls explains. The app will pinpoint which part of the cycle is eating up minutes. Perhaps the drivers are spending more time than you planned for after unloading. An investigation reveals that it's taking additional minutes to clean out their tailgate and roll up their tarps. "This helps you bid reality in the future," Rawls says.
A ticket screen on the app also enables users to view and share any ticket.
"We want to eliminate paver stops," Rawls says. "To do that we need to see the whole process. It's all about balancing production with delivery, specifically when you're dealing with multiple crews."