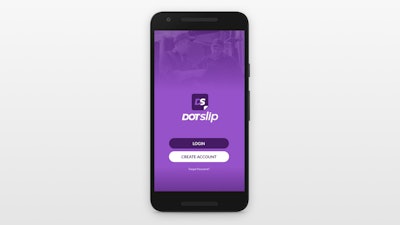 HaulHub Technologies has launched DOTslip, a standalone app built by paving contractors and material producers for the benefit of departments of transportation to reduce paperwork on road projects.
"With HaulHub Technologies, contractors and producers can digitally share tickets with their customers, crews, carriers and project owner representatives," a company news release says. "They maintain control of their operational data they share without the need of intrusive, bulky, hard-to-maintain hardware devices."
The DOTslip app creates a digital replica of the paper slip and allows a contractor to invite a project engineer to receive a live feed of materials being ticketed at the plant.
"Eliminating paper-based workflows is a common goal shared by contractors, producers and state agencies," says HaulHub Technologies founder and CEO Joe Spinelli.
Spinelli, however, notes that contractors' major concern over electronic ticketing is data privacy. The app is designed to protect that privacy by allowing contractors and material producers to maintain control of their data and who gets to view it.
For example, says Alisa Deychman, HaulHub vice president of product, "a contractor can invite a project engineer from a state DOT to one or multiple projects, and DOT personnel can review live feeds, daily project updates and PDF copies of plant tickets in their inbox or cataloged on the web inside their account."
The app is available in the Apple App Store and via the web.