Wirtgen introduced its SP124i slipform paver, WPS 62i placer/spreader and TCM 180i self-propelled texture/curing machine at World of Concrete 2020.
The company displayed the new machines as part of a simulated inset concrete paving train at its booth at the show.
Wirtgen also put on a live demonstration of its AutoPilot 2.0, a three-dimensional control system for automated paving.
Leading the paving train: WPS 62i spreader
The new WPS 62i placer/spreader is the first machine in Wirtgen's paving train at the show. The two-track machine is designed for paving when reinforced steel has already been placed and concrete must be applied from the side.
The placer/spreader passes fresh concrete over pre-placed reinforced steel in front of a slipform paver. The concrete is fed from the side to the spreader, which then evenly distributes over the entire working surface, the company says.
The spreader can feed at paving widths of 12 to 24 feet, which can be adjusted by removing individual segments. It can apply concrete up to 20 inches thick.
The placer/spreader has a modular design and quick-change couplings for easier reconfiguration and transport.
Mid-train: SP 124i slipform paver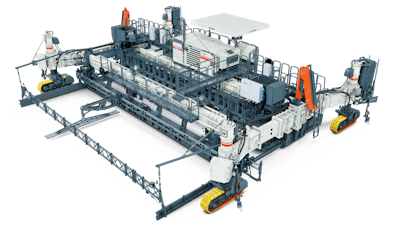 Wirtgen says its SP 124i is the first slipform paver with a working width up to 40 feet that it has equipped with four steerable and slewing crawler units. It can also be equipped with a new hydraulic rotational drive system with a 260-degree steering angle.
The paver is designed with a narrow profile and reduced track line to allow paving close to obstacles. By pushing a button, the four crawler units can be switched to rotation mode, allowing the paver to turn on the spot and pave the next lane in the opposite direction without having to reposition the machine, the company says. The paving legs can be swung in hydraulically for transport.
Behind the paver: TCM 180i curing machine
Wirtgen's new TCM 180i self-propelled texture/curing machine is equipped with an automatic spraying and brooming system to create the desired surface texture.
As it follows the paver, the spray system applies a coat to the surface to prevent the concrete from drying out too soon. The modular design allows widths between 13 feet 1 inch and 59 feet 1 inch.
Cutting the stringline
Wirtgen's AutoPilot 2.0 eliminates the need to set out and take down stringline on concrete paving operations. The 3D control system can use existing models, or it can create a new digital data model on site, which eliminates the need for having a surveyor create a geodetic data model in advance.
Wirtgen offers the AutoPilot 2.0 for the SP 15/SP 15i and SP 25/SP 25i models. It is also possible to upgrade machines with the new system, the company says.