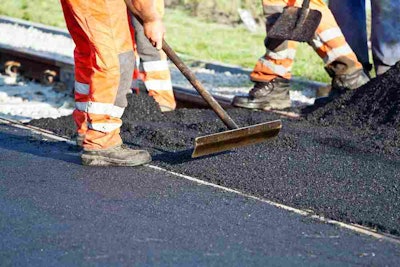 When it comes to recruiting young workers, the asphalt road construction industry has an image problem.
And the problem is, most people don't know much about it, according to a new study commissioned by the National Asphalt Pavement Association.
The study revealed that the road construction industry's familiarity rating with the general public was only 42 percent, and for educators, who are key players in guiding young people's early career paths, it was 38 percent. That placed it fifth behind manufacturing, general construction, transportation and agriculture.
What the public does know is what it sees when passing a construction zone, which it views as dirty, dangerous and labor-intensive, according to the study.
But when educated about the asphalt industry, perceptions change, says the study, released February 4 at NAPA's annual conference. The study shows that the favorability rating of road construction rose 15 percent for the public after messaging and 14 percent for educators.
"Even though they think they have some familiarity with the industry, they don't know what they don't know," said Neal Flieger managing director of Golin public relations firm, which conducted the study. "And they've got to be educated, and they've got to be taught."
NAPA members were urged to spread the message about the industry as a viable career path. But in spreading that message, they should focus on salaries that are higher than other careers and the career growth opportunities. They should also stress that it's a career path that won't lead to college debt and explain that road construction provides a much-needed community service. They should also focus on diversity and equal pay.
"They're never going to learn these things unless the people in this room figure out how to teach them," Flieger said. "But if you do figure out how to expose them to that messaging, you're going to see a huge change in favorability and willingness to consider … and you're countering negative perceptions."
Changing perceptions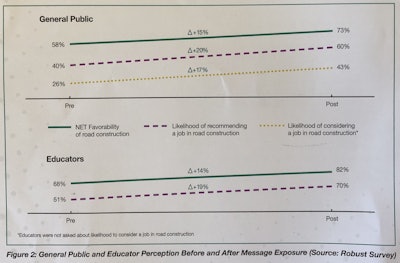 The NAPA study found that when respondents learned more about the industry through quick test messages, the favorability ratings rose by double digits.
Among the general public, the percentage of those likely to recommend a job in road construction rose from 40 percent before the messages to 60 percent afterward.
For surveyed educators, a rise of 51 percent before to 70 percent afterward was recorded.
The study noted that educators were the audience most likely to listen to the industry, but they also needed more exposure to it, so they can talk to parents and students about possible career paths. The best way to do this, according to the study, is to make industry employees and speakers available.
Along with seeking to change perceptions among the public and educators, NAPA members discussed changes within the industry that need to occur to better recruit and retain workers.
David White, vice president of operations for Superior Paving, said his company was developing a program to let new hires know what their career path can be and providing a checklist on the things they need to do to advance to the next level.
"It empowers them to make a choice," White said. "They have to make the decision of which way they want to go. … It removes the ceiling they think they have."
Sheila Barkevich, senior vice president of Callahan Industries, spoke of making sure to follow up with new workers during the few months after the orientation process to see how they're doing and if they need help or guidance.
There was also discussion about making work shifts more flexible. Barkevich said Callahan has had some success with offering workers options, such as working one month on a night shift and then rotating off.
The industry also needs to come out from behind the scenes, she said. Callahan had some trouble recruiting and decided to do TV commercials, not necessarily for hiring, but to highlight its people and what they do for the community. "We started to get a lot more people in the door," she said.
NAPA CEO Audrey Copeland urged members to reach out on social media and increase the profiles of their websites.
She also noted the need to reach out to women.
"Don't discount half of the population," she said.
Reaching out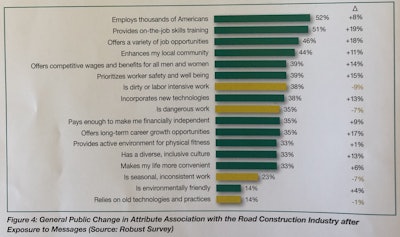 The study, called "NAPA Workforce Development Findings: Understanding Opportunities in Asphalt," laid out several recommendations for NAPA and its member contractors.
For NAPA, the study recommended it create partnerships with parent organization and groups to spread the word about salaries and the long-term stability of the industry. It also said the messages should focus on career paths and how building roads and other asphalt surfaces contributes to the community.
For contractors, their outreach should focus on educators and younger generations of students, and they should create partnerships with teachers and school counselors and become more visible in the schools.
"When you're in high school, the colleges come to the school," said one survey respondent who is an educator in Denver. "They come, they work the school, they call us, they set appointments. And they want to come two or three times a year.
"The industries, for the most part, don't."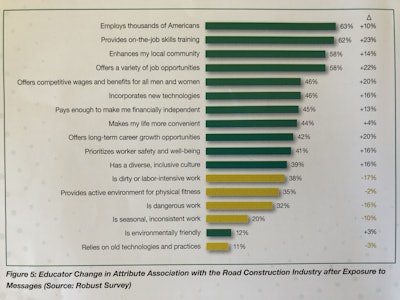 For both contractors and NAPA, the study recommends focusing the message to the specific audience. For younger audiences, use digital and targeted communication that increase awareness of the industry. For educators, work directly with them and support them in getting the message out.
NAPA and some of its member contractors have been forging such relationships and vowed to do more.
Many repeatedly said the asphalt industry needs to tell its story and tout the good it does for the community.
"The lasting impact you can make by being a part of this industry," White said, "I don't think you can make it anywhere else."