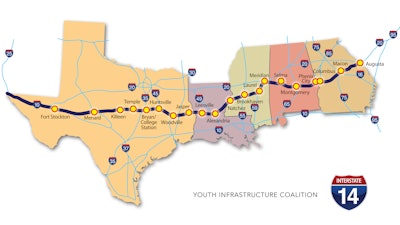 Youth Infrastructure Coalition
Editor's Note: This story was updated November 15, 2021.
A 20-year effort to designate an Interstate 14 through five Southern states, providing a link between a dozen military bases, could become a reality with the $1.2 trillion infrastructure bill that President Joe Biden signed Monday.
The proposed interstate corridor extends 1,300 miles from Interstate 10 in Texas to Interstate 20 in Augusta, Georgia, passing through Louisiana, Mississippi and Alabama. It would run past military installations and 14 ports. Much of the interstate would use existing roadway to be upgraded to interstate standards and new I-14 signs added.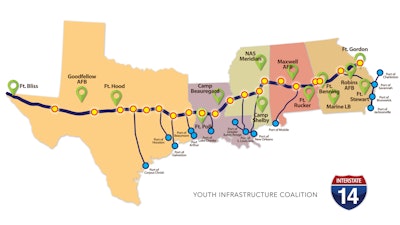 Supporters say the proposed interstate would enhance military training and increase deployment options. Other benefits, they cite, are improved interstate connections between major cities, boosting economic development in low-income areas along the highway corridor, providing an alternative route for long-haul truck traffic to reduce congestion in other areas and creating a route farther north of the Gulf Coast that is less apt to be closed due to hurricanes and flooding.
Currently, a 25-mile section of I-14 exists in central Texas between Killeen at Fort Hood and Belton, Texas. The section of U.S. 190, which had been built to interstate standards, was added to the interstate system in 2017. The Gulf Coast Strategic Highway Coalition has been working to get incremental designations of the highway for the past 20 years.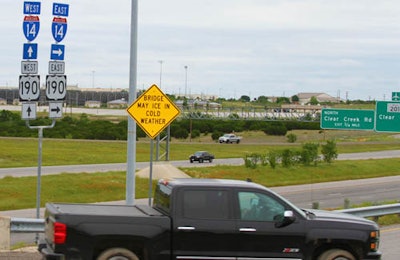 The I-14 amendment to the $1.2 trillion infrastructure bill passed by the Senate was introduced by Sens. Ted Cruz of Texas and Raphael Warnock of Georgia.
"I applaud my Senate colleagues for supporting this bipartisan amendment to designate future Interstate 14 across Texas, Louisiana, Mississippi, Alabama and Georgia, so we can begin the necessary work to upgrade this road system and connect strategic military installations across our states," Cruz said.
"This planned route would connect military installations across Georgia and drive economic opportunities to our rural communities," Warnock added.