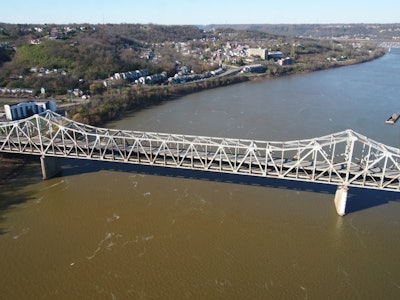 Kentucky Transportation Cabinet
Four large bridges have been targeted for a combined $2.1 billion in federal grants from the $1.2 trillion infrastructure law.
The funding represents the first allotments of the Large Bridge Project Grants for bridges with repair costs of over $100 million. Planning grants totaling $18.4 million for smaller bridges were announced in October, with construction grants for small bridges to be announced later this year, according to the U.S. Department of Transportation.
The infrastructure law's bridge program dedicates $12.5 billion over five years to the competitive grants. In all, the law allocates about $40 billion over five years for helping to repair or rebuild 10 of the most economically significant bridges in the U.S. and thousands of smaller bridges. Each state will receive funding for at least one project, DOT says.
The Biden administration says the bridge funding in the law represents "the single largest dedicated investment in bridges since the construction of the Eisenhower-era Interstate Highway System."
4 bridges targeted
The following bridges have been targeted to receive $2.1 billion in grants this year:
Brent Spence Bridge – $1.385 billion to rehabilitate and reconfigure the bridge over the Ohio River between Kentucky and Ohio. The DOT says it is the second-worst truck bottleneck in the nation and carries more than $400 billion in freight per year. The bridge was also the site of a fiery tractor-trailer crash in 2020 that closed the span for months. It has been deemed at overcapacity for years. It carries about 160,000 vehicles a day on I-75 into Cincinnati. The plan is to build a new companion bridge west of the current span to add capacity, and reconstruct the 8-mile interstate approach.
Golden Gate Bridge – $400 million to upgrade the San Francisco bridge to better withstand earthquakes.
Gold Star Memorial Bridge – $158 million to rehabilitate the northbound structure of the span, which is part of the Interstate 95 corridor over the Thames River between New London and Groton, Connecticut. The bridge carries five lanes of traffic and 42,600 vehicles per day. It will undergo structural repairs to increase load capacity and eliminate a load restriction for overweight vehicles. Bike and pedestrian paths will also be added.
Four bridges over the Calumet River on the Southside of Chicago – $144 million for rehabilitation to eliminate a load restriction and truck detours, as well as add dedicated bike lanes and improve sidewalks.
How bridges qualify
The grants are for projects that would cost more than $100 million.
Priority for this round of the Large Bridge Project Grants was given to projects ready for construction. The bridges are deemed vital to improving safety for drivers and boosting freight travel.
Recipients will receive at least $50 million, with a maximum of half of the project's total cost.
"These first large-bridge grants will improve bridges that serve as vital connections for millions of Americans to jobs, education, health care and medical care and help move goods from our farms and factories," says U.S. Deputy Transportation Secretary Polly Trottenberg. "And over the next four years we will be able to fund construction for the pipeline of shovel ready projects we are creating through Bridge Planning Grants."