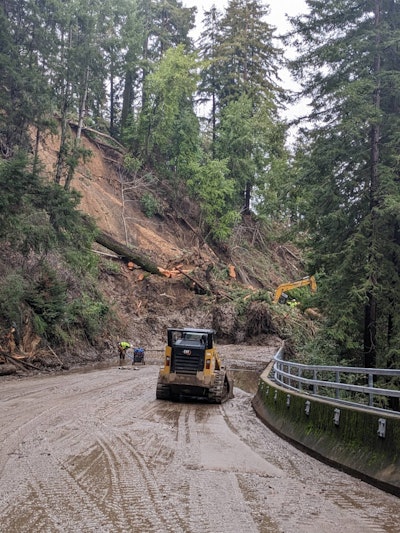 California Highway Patrol Santa Cruz
Mudslides, flooding, blizzards, tornadoes. Mother Nature continues to pummel California, devastating communities as "atmospheric rivers" since late December wreak havoc.
Videos taken across the state and posted on Twitter show the challenges facing transportation and emergency crews.
The California Department of Transportation reported January 10 that the storms have affected the majority of the state in "some shape or form." Caltrans crews throughout the state are scrambling to reopen roads damaged by flooding and mudslides and are preparing for more rain and snow through the weekend and possibly heavy rain from atmospheric rivers until January 20 on parts of the state.
At least 19 people have reportedly died due to the extreme storms. The California Governor's Office of Emergency Services reports that 41 of the state's 58 counties are under federal emergency declaration as of January 11. Damage assessments are continuing.
The emergency office said on January 11 it had deployed swift water resources and firefighting personnel to dozens of counties, as well as resources at eight fire departments, to prepare for major flooding and debris flows. It called the action "one of the largest prepositioned events for a winter storm in state history."
The California National Guard has been called out to aid in search and rescue, debris removal and rerouting water flow to prevent mudslides.