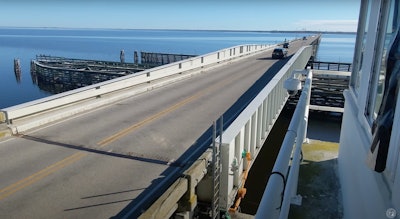 N.C. Department of Transportation
Plans to replace an old swing bridge that drivers to and from North Carolina's Outer Banks have crossed for decades got a funding boost from the federal infrastructure law.
The Alligator River Bridge Replacement recently received a $110 million federal grant, which will be added to the funding for the proposed $289.5 million project, Gov. Roy Cooper announced recently.
The two-lane Lindsay C. Warren swing bridge opened in 1962 over the Alligator River between Tyrell and Dare counties on U.S. 64. The N.C. Department of Transportation says the bridge swings opens to more than 4,000 boats each year.
The slow-opening bridge leads to traffic backups when it's working. And on the occasions when it closes due to technical problems, drivers face a 99-mile detour.
The plan is to replace the swing bridge with a two-lane span that will be high enough for boats to pass underneath. It will be built north of the swing bridge, which has been listed "structurally deficient" because it is nearing the end of its useful life, according to NCDOT.
The new bridge will also aid in hurricane evacuations of the state's barrier islands.
NCDOT says construction will begin on the bridge by 2025. The current bridge would be removed after it is built.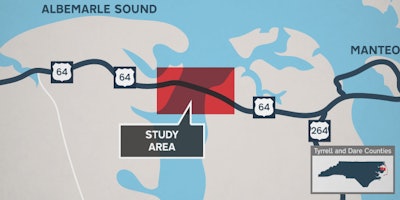 The federal grant will also fund installation of broadband lines along U.S. 64 from I-95 in Rocky Mount to N.C. 12 on the Outer Banks, Cooper said.
"This bridge is a lifeline for the people of North Carolina both to and from the barrier islands. It is one of the few options residents and visitors have for accessing our far eastern counties, and this bridge replacement will serve our state for decades to come," said North Carolina Governor Roy Cooper. "This is a great example of how President Biden's Bipartisan Infrastructure Law helps move along large projects that otherwise would be difficult to fund through traditional means."