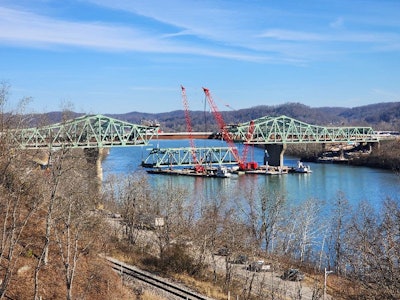 West Virginia Department of Transportation
The West Virginia Department of Transportation has been deploying some innovative techniques for replacing old bridges while reducing traffic disruption.
The department recently released time-lapse videos of a 1.72-million-pound bridge being lowered onto barges to be sent for recycling, and workers using bottles of Dawn dish liquid to slide a new bridge into place on another project.
Check out the videos below:
Bridge lowered onto barges
In this West Virginia Division of Highways time-lapse video, the 60-year-old main span of the Donald M. Legg Memorial Bridge between Charleston and Huntington on I-64 is lowered onto three barges. In the background is the new Nitro WWII Memorial Bridge that opened October 28. After the removal of the Legg Bridge, a new bridge will be built to carry eastbound traffic. The new bridge now carrying east and west drivers will become the westbound span. The goals are to reduce the traffic jams that occurred at the old bridge and increase safety and economic development. The 250-foot-long lowered span will be recycled. The span, which weighed 1.72 million pounds, was lowered December 21.
Dawn dish liquid aids bridge slide
In this WVDOT time-lapse video, a new bridge is slid into place January 22-24 to replace the 90-year-old Colonel Ruby Bradley Bridge, which carried U.S. 33 across Spring Creek at the intersection of U.S. 33 and U.S. 119 in Roane County.
The West Virginia Division of Highways and the contractor, Rock Forge Bridge Company, chose the sliding method to keep the nearly constant traffic flowing across the creek. Rock Forge built a new bridge upstream and shifted traffic to it after it was finished. Then it demolished the old bridge. While traffic flowed in both directions on the new bridge, the other new bridge was slid 44 feet into place to replace the old one.
The move was a slow one, a few inches at a time and took two nights. In the video below, workers use Dawn dish liquid to lubricate the slide across the abutments, while the span is moved by massive hydraulic jacks. Ceramic tiles were place over the abutments to protect them while the bridge was being slid.