Florida Department of Transportation, District Two
Construction crews in Florida and Wisconsin unearthed some historical finds recently.
In Oshkosh, Wisconsin, a road reconstruction project unearthed what could be the largest former American Indian village located in the area. Researchers date the village in Menominee Park back to between 600 and 1600 A.D.
Then in Florida a crew working on a drainage project under State Road A1A in St. Augustine found a boat and artifacts that archaeologists believe date to the 19th century.
In both cases, projects have been delayed to enable archaeologists to catalogue the remains.
19th-Century Boat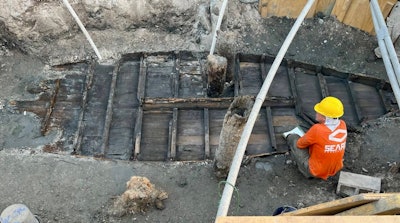 A boat believed to have been buried for more than 100 years beneath King Street in historic St. Augustine was discovered October 5 while crews were digging with an excavator to install drainage at King Street and A1A near the Bridge of Lions.
The Florida Department of Transportation subcontracted with Southeastern Archaeological Research (SEARCH) before the project because of the area's history. A SEARCH monitor saw the wooden hull and stopped the digging. Along with the boat, whose remains were about 20 feet long, were leather shoes, some coins and other items dating to the mid- to late 1800s.
SEARCH teams removed the vessel piece by piece and placed the pieces in freshwater tanks for storage, awaiting further analysis. The planks are being kept wet to preserve them. The FDOT reports that they were completely impregnated with water when found and have the "consistency of thick, water-soaked cardboard."
The iron nails and spikes that once held the boat together had corroded away.
Researchers believe the boat was abandoned on what was formerly shoreline, but over the years was covered by 8 feet of earth and later paved over. They believe the flat-bottom boat was originally 28 feet long.
American Indian Village
Meanwhile, in Oshkosh, Wisconsin, work has been halted on a road reconstruction project after an American Indian village believed to be 400 to 1,400 years old was discovered near the banks of Lake Winnebago.
On October 6, the city of Oshkosh released a statement saying work to rebuild Pratt Trail in Menominee Park would be delayed from its scheduled completion in October as archaeologists with the Cultural Resource Management program at the University of Wisconsin-Milwaukee investigate the site, believed to be one of the largest finds of its kind in the area.
As with the Florida boat find, the city was aware of the potential for historical discovery and has been working with state and tribal agencies to investigate any finds and preserve them.
The village has been preserved intact after centuries of being covered over and later paved over for the park road.
Finds at the site include pottery and tools. The plan is to catalogue the site and preserve it as is, with road reconstruction to possibly resume in spring. Leaders from Menominee and Ho-Chunk tribes visited the site. It has not been determined which tribe occupied the site.