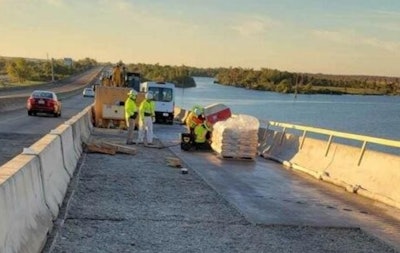 Louisiana DOTD
After analyzing the data from multiple inspections, the Louisiana Department of Transportation and Development today said it is preparing to begin permanent repairs for the portion of Interstate 55 damaged by a massive, multi-vehicle accident and fire Monday, October 23. Some 18 tractor-trailers were part of the collisions that occurred in a dense "super fog" and smoke from a nearby wildfire.
The DOTD explains the repairs:
Northbound: Inspection results show that, due to extensive spalling (breakage of the concrete), a partial deck replacement is needed for the impacted area.
The top portion of the deck will be removed. Once complete, crews will replace that top layer with a modified concrete overlay. Contractors will begin mobilizing next week. Once repairs begin, and assuming no new damages are discovered, the northbound repairs could take up to two weeks to complete.
Southbound: DOTD and its contractors have already begun permanent repairs to the southbound lanes. Contractors are working on the right lane in the area at the crash site, removing the damaged portion of the deck, and preparing to begin patching.
RELATED NEWS: Death toll in Louisiana's massive I-55 pileup increases to 8; 63 injured
DOTD plans to temporarily close I-55 southbound for a six-hour period sometime this weekend. At that time, crews will switch the single-lane closure near the crash site. I-55 southbound will reopen, and traffic will taper down to the right lane near the crash site as crews begin to repair the left lane. Those repairs may take up to two weeks to complete. Once done, all of I-55 southbound will be permanently repaired and open to the public.
DOTD said it will notify the public with details of this weekend's southbound closure once details are finalized. Motorists should expect to see repair work on the north and southbound decks in the coming weeks.
DOTD is advising southbound travelers to be aware of their surroundings and of the crews working on-site. Northbound travelers will continue using Old US-51 as an alternate route for the time being.