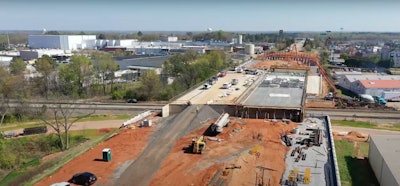 SCDOT
The reopening of a section of I-85 Business in Spartanburg has been delayed until the end of the year, according to the South Carolina Department of Transportation.
The $24 million project that began in 2021 to replace three bridges along a section between Spring Street and I-585/Highway 176 was initially scheduled to be completed in July. In February, the SCDOT announced it would reopen in October.
On October 25, SCDOT announced work will continue through this year. The agency said additional paving and guardrail work is needed for improved roadway safety.
I-85 Business is an 8-mile freeway running between I-85 and downtown Spartanburg and was built in the 1950s. The bridges were deemed structurally deficient.
One of the three bridges to be replaced, the Lawson Fork Creek Bridge, was completed and reopened in November 2022.
Work has occurred simultaneously on the two other bridges, over Buffington Road and over Howard Street. Traffic has been detoured around the closed section throughout the project.