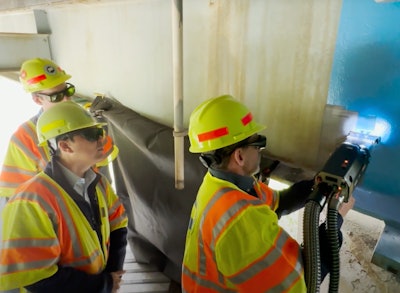 Best-Tec
A recent pilot project in Connecticut used portable lasers to clean a bridge of rust and potentially lead-based paint, saving time and money and reducing environmental waste, according to the product's maker, Adapt Laser.
The 1,000-watt handheld lasers remove paint and rust to expose the base without removing any of the metal, the company says. The vaporized paint and rust residue is sucked into an extractor filter unit to protect workers.
(A video at the end of this story shows the lasers being used on the project.)
The process is called laser ablation coating removal (LACR) and was performed by environmental cleanup company Best-Tec this summer on an I-84 entry ramp from Mulberrry Street in the Plantsville neighborhood of Southington, Connecticut.
The highway bridge spans two-lane Canal Street and the Farmington Canal Heritage Trail, neither of which had to be closed for the work. The cleaning project was scheduled to take 15 days and was completed a day ahead of schedule, the company says. That cleared the way for the rest of the Connecticut Department of Transportation's project to repair corrosion damage to the ends of the 36-inch steel H beams with cast-in-place ultra-high-strength concrete. It also enabled compliance with OSHA and environmental regulations concerning possible lead-based paint exposure.
The laser process created about 40 pounds of dry powder waste captured by the lasers' filtration system. That compares to 9,000 to 12,000 pounds of waste had the bridge been sandblasted, Adapt Laser says.
The company says the lasers are much quieter and use less energy and equipment than sandblasting. "The portable laser is powered by a single diesel generator and doesn't require the sandblasting containment zones that shut down traffic or other equipment necessary to contain and capture blast media."
Check out Best-Tec's video below of the Connecticut bridge project: