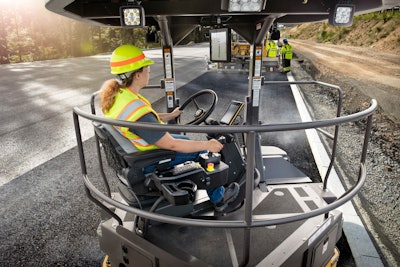 Volvo CE
If you know how to use a smartphone, then you can operate Volvo Construction Equipment's new entry-level intelligent compaction system for its asphalt rollers, the company says.
Called Compact Assist Start, the system will automatically provide real-time digital mapping of the compactor's passes and of the mat's asphalt temperature. All you have to do is set your target on the tablet mounted in the cab and go. The mapping appears on the tablet's 10-inch touchscreen.
It's designed for those who have never used intelligent compaction, with new operators in mind. It requires no setup, Volvo says, and is compatible with these Volvo asphalt rollers: Volvo DD110C, DD120C, DD128C and DD140C.
Here's what each of the Compact Assist Start features are designed to do:
Pass mapping – Operators can look at the tablet screen to see exactly where they are and where they've been in the compaction process, including stops and overlaps, to help prevent under- and over-compaction.
Temperature mapping – The screen also shows a color-coded map to delineate surface temperatures of the asphalt. The operator can set maximum and minimum temperature ranges to avoid rolling when asphalt is too hot or too cold.
Volvo offers two higher levels of Compact Assist for more advanced intelligent compaction, and the entry-level system has the wiring and much of the hardware needed to upgrade to them, the company says.
This chart from Volvo shows the differences among Volvo's three Compact Assist packages: