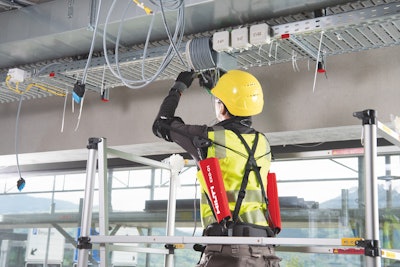 Hilti
A product that generated great interest when it was announced last year is now for sale.
The Hilti EXO-01 exoskeleton, designed to give workers an assist when using tools overhead, started selling this month for $1,599, Simona Kalova, Hilti project manager, told Equipment World at the recent World of Concrete.
Hilti worked with Ottobock, a prosthetics, orthotics and exoskeleton manufacturer, to create the EXO-01 specifically for construction workers. The company says it provides dynamic support without restricting the span of motion of the arm and torso. "It only comes into play when you lift your arms above your waist," says Kalova.
"For workers spending 50% to 60% of their time working overhead, we've seen a decrease of strain on their upper arms and shoulders of 47%," she says.
Construction is full of awkward positions, and in the worse cases, they can lead to musculoskeletal disorders, Kalova says. "This takes the strain that you would normally feel in your shoulders and arms and transfers it to the hips."
[Related: Does Hilti's new EXO-01 Signal the Rise of the Construction Exoskeleton?]
Hilti has been beta testing the EXO-01 on U.S. jobsites throughout this year. A common user question throughout the testing: Will this make me stronger?
Alas, you will not become the next Ironman wearing the device. "You're not going to be stronger," Kalova says. "While the tool you are holding above your head weighs the same amount, it feels much lighter [with the EXO-01 on]."
Kalova reports beta testers took about a day to adjust to using the EXO-01. Then "we had difficulty getting the demo units back because they wanted to keep them," she says. Hilti sought a broad scope of experiences, and demo'ed with contractors in several specialties.
How to wear the EXO-01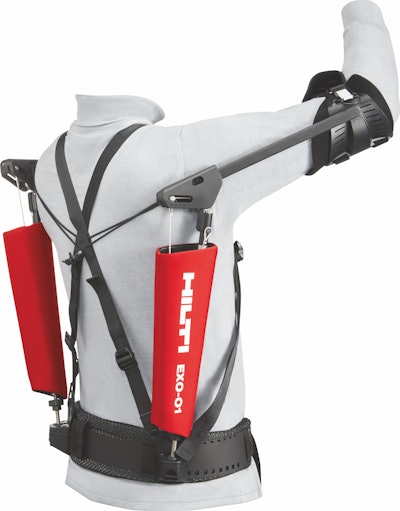 Weighing less than 5 pounds, the EXO-01 has a backpack-like design. Each user can quickly adjust the unit to his or her height and weight. It fits users from 5 feet 2 inches to 6 foot 4 inches. The waist is fully adjustable, and if needed, waist extenders are available.
"It's built on the backpack principle," Kalova says, "and it needs to sit on top of your hips. Think of it like a safety harness. It really needs to be tailored to fit your body." While initial adjustments will take longer, once the EXO-01 is fitted, it can take just a few seconds to put on.
Height adjustments are made by adjusting the silver threaded rods at the base of the back supports. To adjust for width, use the ball socket units at the base of each back support.
In addition, users can adjust the tension support by turning knobs at the narrow end of the shoulder hinge. This support can be adjusted by an overall preference by the user or when a job requires additional support. Users can also choose to engage one arm and leave the other tension free.
To wear, users should clip the belt above their belt line, above their natural waist. Then using the pull loop, they can pull each arm support down into position. The arm braces attach magnetically.
After fully donning the exoskeleton, users should have full, unimpeded range of motion, Hilti says. Once on, the unit is designed to provide safety and comfort for overhead tasks such as installing drywall, piping, air ducts, cables and conduit.
The EXO-01 is self-contained and does not require a power source. Because it is not flame retardant, Hilti says, it should not be used in welding operations.
Learn more about the EXO-01 by viewing the video below: