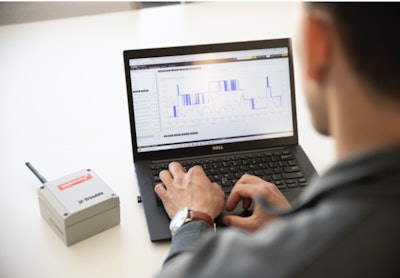 Trimble
New features enhance Trimble 4D Control v6.2
Trimble has added several new features to its 4D Control v6.2, including a Geotechnical edition that analyzes and stores data from geotechnical sensors. It incorporates all the hardware and software necessary to monitor assets for stability and assess things like the risk of landslides or the movement of infrastructure.
The new edition is designed to streamline the installation and deployment of automated monitoring workflow for geotechnical-only setups where no total stations and GNSS are required. The software also has alignment-based monitoring analysis and reporting relative to an object such as a tunnel, road, or bridge.
The Trimble 4D Geotechnical comes complete with sensor-agnostic file import capabilities, sensor alarming and gateway-based sensor connections, and data management and analysis tools for asset monitoring activities. Along with expanded support of a variety of industry sensors, the Trimble 4D Geotechnical edition is optimized to support streaming data from two additional sensors: a wireless laser-tiltmeter and a wireless triaxial tiltmeter.
You can't track it if you can't find it. GPS Trackit has a solution
Trying to choose the right asset tracking program for your fleet can be like looking for a needle in a haystack. To help you sort through the options, GPS Trackit has launched the GPS Trackit Marketplace. The Marketplace is single portal where you can find, try and buy third party solutions in conjunction with GPS Trackit's all-in-one cloud platform for fleet and asset management and video telematics. The resources available through the GPS Trackit Marketplace include dash camera video, asset tracking, diagnostics, distracted driving, driver behavior, driver training and gamification, telematics, field service, electronic logs and roadside assistance.
Cat to supply zero-emissions machines
Nouveau Monde Graphite announced that they have signed an agreement with Caterpillar to develop, test and produce Cat zero-emission machines for the Matawinie graphite mine. The goal is to become the exclusive supplier of an all-electric mining fleet for deployment at the Nouveau Monde mine by 2028. Caterpillar will be the exclusive supplier for the Matawinie zero-emission mine.
Deere, Hitachi end resubscribe fees for telematics
John Deere announced that customers with active JDLink connectivity will no longer be required to renew their subscriptions. As of July 14, customers will be able to activate any compatible machine in their fleet at no additional charge. Hitachi Construction & Mining, an operating division of John Deere Construction & Forestry announced the same policy for customers using its ZXLink telematics.