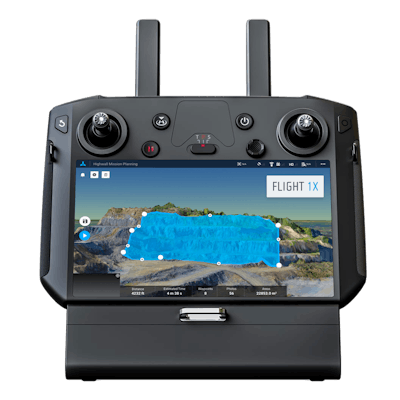 Skycatch
Using photogrammetry, drones can collect enormous amounts of information on earthmoving, industrial and mining sites. But when it comes to downloading all that data … put on a fresh pot of coffee, there's lots of time involved.
That's why many in the industry may be interested to hear that Skycatch, a data automation and analytics provider for drone mapping, has announced the release of Flight1x, a cloud-based solution for the DJI M300 drone platform.
Built on technology adopted by large mining companies and suppliers such as Komatsu and AngloAmerican, Flight1x is proprietary software developed specifically for the M300 that, according to the company, offers the most complete end-to-end high precision industrial drone capabilities available today.
Compared to off-the-shelf photogrammetry tools and laser sensors, Skycatch's drone software reduces the time required to obtain high-accuracy 3D data by 60% and delivers results in 10 to 15 minutes compared to the more typical three hours. Flight1x takes these capabilities to the next level on the M300, delivering sub-3-centimeter accuracy for tailings management and inspection.
This reduces surveying costs, improves production planning and minimizes the risk of human error in hazardous mining sites. Skycatch's analytics platform, Datahub, delivers added value for specific industrial workflows such as pit survey, highwall mining and repeatable tailings inspections.
Skycatch specializes in bridging data from the physical world to the digital. The new Flight1x solution delivers data and network security via Skycatch servers in the United States coupled with advanced automation features like a 3D first-mission planner, mining-focused workflows and deep integration into Datahub.
Additional functions and features when using the Flight1x software and M300 include:
Automated capture, extraction and processing of high-precision 3D point clouds.
Specialized mission planning automation to extract data from complex terrains such as high walls.
Complete industrial data capture and processing for repeatable and automated spot inspection.
Consistent data retrieval analysis of thousands of terrain spots in a single location by an automated industrial drone.
Automated aerial robot technology built on Skycatch's platform that eliminates need for manual pilots and reduces risk of human error.