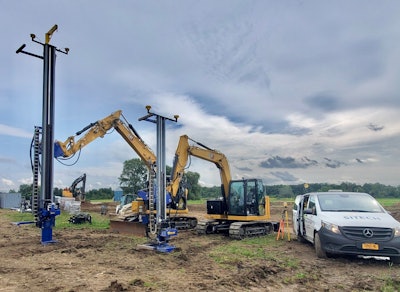 Mincon
Mincon Drill Mast Attachments for skid steers and excavators can now be equipped from the factory with Trimble's Groundworks Machine Control System.
The system boosts contractor efficiency by providing stakeless navigation, positioning accuracy and as-built data when installing ground screws and drive piles on solar construction projects, Trimble says.
"Demand for solar is so high right now that engineering, procurement and construction (EPC) companies urgently need more installation capacity to meet the industry's growing needs," said Elliott Duck, vice president of marketing for integrated systems at Mincon. "By equipping Mincon Drill Mast Attachments with Trimble Groundworks machine control, a machine operator can both pre-drill and install solar foundations without the need for someone on the ground checking for accuracy. This innovative workflow helps make solar installation contractors and EPCs more efficient and more scalable, reducing reliance on scarce labor resources."
Trimble Groundworks is part of the Trimble Connected Site portfolio of solutions that help contractors improve workflows and processes throughout the project. The integration of Trimble Business Center Software design capabilities in the office and Trimble Groundworks machine control in the field can increase the efficiency and productivity of drilling and piling operations, the company says. Trimble WorksManager Software can reduce site visits by syncing data from office to field.
"Trimble and Mincon are both industry leaders that share a common goal to deliver technology that significantly accelerates—and improves—the quality of solar farm installations," said Kevin Garcia, general manager of civil specialty solutions at Trimble. "Our SITECH Northeast distributor initially brought the idea of a Trimble and Mincon collaboration to the table, and we saw right away what a great fit our solutions were for each other. We're excited by the work that Mincon, Trimble and SITECH Northeast have done to get the Mincon solar drilling and piling products Trimble Ready for the benefit of solar contractors."