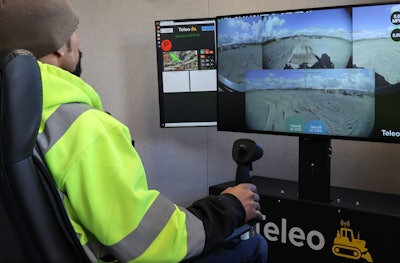 Teleo
Florida-based Tomahawk Construction will become the first contractor to deploy startup tech company Teleo's autonomous construction equipment retrofit kits on an active jobsite.
Starting in December, Tomahawk Construction will use Teleo-equipped articulated dump trucks to tram, or autonomously haul material from one point to another, while building a residential community in Naples. Teleo says the autonomous feature introduction will begin on three of Tomahawk's trucks and will roll out to 12 machines over the course of a few months.
"Construction companies are facing historic labor shortages and incurring significant costs as their machines sit idle," said Vinay Shet, co-founder and CEO, Teleo. "We are seeing an unprecedented number of customer orders which demonstrates Teleo's powerful value proposition. Our technology breathes new life into our customers' machines, addresses their labor shortages, and makes the operators' role safer and more comfortable."
[Watch: Retrofitting Equipment for Remote Control: An Interview with Teleo's CEO]
Haul truck operators spend most of their time tramming from one point to another. By automating the tramming portion, Teleo says one operator can run multiple machines simultaneously, multiplying their productivity. The physical dumping of materials will be handled remotely by one operator controlling multiple machines from a command center.
"Teleo's technology has the potential to completely transform our operations," said Scott Lyons, managing member, Tomahawk Construction. "With Teleo, two of our dump trucks that have been idle will be put back into service to haul dirt across the site autonomously, allowing our remote operators to do more. This will help us to run a more efficient operation."
More customers, dealers coming on board
To date, Teleo has been testing the autonomous capabilities on two John Deere 333G compact track loaders at its Pleasanton, Calif. proving grounds, and on a Komatsu WA500 wheel loader at the Ouluzone race track property in Finland.
The company plans to have 20 remote and semi-autonomous-enabled Cat, Deere and Volvo machines, ranging from model year 2005 – 2022, on 17 jobsites across eight U.S. states and Europe by the end of the year.
Ajax Paving Industries, also of Florida, will outfit two new Caterpillar wheel loaders with Teleo's technology. The loaders will fill bins at two of the company's asphalt manufacturing plants. The plants are roughly 80 miles apart, marking the first time one operator will work across two job sites, the company says.
"The asphalt industry operates on tight schedules," said Andy DeCraene, vice president, Ajax Paving. "When our customers require asphalt, we must deliver promptly, making it imperative for our machines and operators to remain available. Allowing one operator to control machines at multiple sites is a significant advantage. If an operator is unavailable at one site, another can operate the machine remotely. This is a genuine game changer for our business."
Ajax Paving is the first asphalt manufacturing plant in the U.S. to introduce remote operation technology. The company's collaboration with Teleo was facilitated by Dobbs Positioning Solutions, a division of Dobbs Equipment that covers Florida, Georgia, South Carolina and Alabama.
Teleo launched its global dealer partner program earlier this year and recently added Springfield, Missouri-based Ozark Laser, Park City, Kansas-based Murphy Tractor, and Australian-based Position Partners to its network.