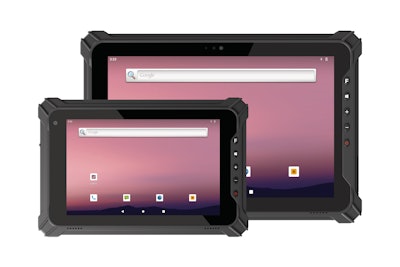 Werock Technologies
Werock is expanding its portfolio of industrial rugged tablets designed for construction sites with two units using the Android operating system.
The 8-inch display Rocktab S508 and 10-inch display Rocktab S510 from the Rocktab S500 series are now available with either Windows 11 or Android 12.
"The new tablets are the ideal robust hardware for demanding tasks," said Markus Nicoleit, Werock Technologies Gmb managing director. "They offer all the necessary functions and, thanks to the new processor architecture, high performance".
The IP65-certified, military-grade Rocktab S508, S510, and S512 can withstand rain and extreme temperatures from -4°F to 140°F and drops from a height of 4 feet.
While tough, the Rocktab S500 series tablets are compact with a depth of approximately 2 centimeters. They feature an 8-core Mediatek Helio G99 processor with up to 2.2 GHz, 8 GB of RAM, and 128 GB integrated storage.
Nicoleit said Android 12 is factory-installed and features a redesigned user interface that can be personalized and offers more privacy features. In addition, the tablets come with full-size USB 3.0 Type A and USB-C ports, front and rear cameras, mobile 4G LTE Internet, integrated GPS, Bluetooth, Wi-Fi 5 WLAN, and large, fast-charging batteries with up to 10 hours of runtime.
A 2D barcode scanner, docking station, and other accessories are available. The tablets can also be equipped with a Gigabit Ethernet or serial interface.
Each of the S500 series devices features gesture-compatible touchscreens that are scratch-resistant.
According to Nicoleit, a total of five models are now available in the Rocktab S500 series: three models with Windows and two models with Android.
For the Android operating system, there are two display options, 8-in., or 10.1 in.
"With the addition of two Android models to our popular Rocktab S500 series, we offer even more options for integration into industrial processes," he said. "They are the ideal companions for anyone who needs a robust device with extensive features and connectivity on the go."
Rocktab S508 and Rocktab S510 tables with Android are available to order now through direct sales or channel partners.