By Marcia Gruver Doyle and Tom Jackson
Managing tires on a fleet of equipment is a tough task, but these round rubber assets will cost you big bucks without good record keeping.
Most tire manufacturers have tire management software for record keeping, but Goodyear has gone one step further with an enhanced version of its EMTrack OTR monitoring system.
Goodyear chose the Intermat trade show in Paris last week as the setting for the worldwide launch of the system along with the Proactive Solutions TPMS (Tire Pressure Monitoring System) Heavy Duty solution.
"These are both aimed at reducing the total cost of operation for our customers," says David Anckaert, vice president, Commercial Tires Europe, Goodyear.
"EMTrack helps our end users track tire performance and gain all the benefits," adds Eric Matson, global field engineering manager. It will enable faster and more accurate collection of tire data such as tread depth, inflation levels and other indicators of tire health, he says.
EMTrack translates tire data to actionable information
The new EMTrack system has two parts: a scanning tool and an app. The tool is a handheld device that captures inflation pressures and measures tread depth and other tire parameters in the field. Whip out the tool, take the measurements, push a button and—bingo—the tool automatically uploads those measurements to your mobile device via Bluetooth.
The app enables this data to be uploaded to the cloud and shared with crews and maintenance managers. Tire inspectors can also attach up to five photos of the tire in question and upload those to the report as well, Matson.
The app also organizes the data so you can tell at a glance the age and condition and other tire criteria. With customizable reports you can also identify maintenance issues to help schedule tire repair and replacement opportunities before they cause downtime. Push the data to the next level and you can analyze which tires give you the best bang for the buck, forecast future tire requirements and calculate tire cost per hour and per ton.
"Customizable reports, that's really the power of EMTrack" says Matson. "You can collect data all day, but with customizable reports you translate that data into beneficial information to make decisions in your business. It helps you understand when tires are due to be removed, retreaded, or scrapped," With the system's predictive analytics you can also minimize unplanned downtime and forecast future tire needs, he says.
"One of the biggest benefits is that you're not writing all that down on a clipboard and going back to the office to transcribe that off paper onto your computer," says Matson. "Now you bring your device within cell range and hit sync and that data automatically syncs up to the web version of EMTrack."
The new EMTrack will eventually replace the old version, and Goodyear is working to migrate current customers to the new version and move all their data onto the cloud. EMTrack can be used to monitor any brand of OTR tire.
As a service, Goodyear is not charging its customers for EMTrack. "The way we capture the value is that we sell them the tires," says Matson. But larger companies that want to do their own data collection can buy a license to use EMTrack and a pay a $500 maintenance fee, he says.
While some may think that tire tracking is something only the big fleets would need, Matson says you would be surprised at how valuable it can be even for small operations—say a quarry with three to five trucks and a handful of loaders. When you study the analytics it's not uncommon to find one brand of tire costing$1 more or $1.25 an hour more to run that competitor, so that's where even the smaller fleets will find value. "But you don't know that if you're not tracking the tire," Matson says.
Real-time tire monitoring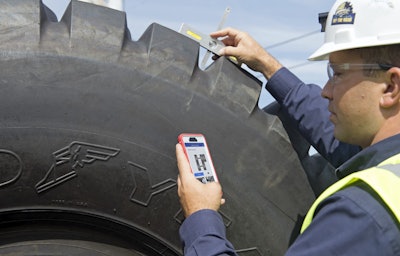 First introduced in 2016 for on-road operations, the Proactive Solutions TPMS Heavy Duty version provides real-time tire monitoring for OTR fleets. Using sensors mounted inside the tire, TPMS gives users the ability to monitor tire pressure and temperature and receive notifications on potential issues before they happen, Goodyear says. The data is transmitted via on-board telematics to a Goodyear server, where it is analyzed. Alerts are sent to the fleet manager via email or through an app, and show which tire is affected and the severity of the problem.
"In addition to offering predictive technology before problems occur," Anckaert says, "this technology leads to improved maintenance levels and retreadability."
In field tests with Dutch company ESD-SID, Goodyear estimates that the company will realize savings of 71,000 Euro over a five-year period on four wheel loaders by using TPMS Heavy Duty. The savings will be realized by eliminating bi-monthly inflation checks, eliminating tire failures (which were historically at one failure per year) and increasing tire life by 10 to 15 percent.
In addition to reducing tire maintenance costs, Goodyear says TPMS Heavy Duty also has a GPS function that allows fleet managers to locate machines and prevent unauthorized movement or theft.
"These are proven, not theoretical, cost reductions," Anckaert says. "We've also been able to show overall benefits in rigid frame trucks and articulated haulers."
Both EMTrack and Proactive Solutions TPMS Heavy Duty are in response to what Goodyear says are three OTR tire megatrends: increasing cost of operations, data-driven service and solutions, and the increasing requirement for loading and speed capabilities.