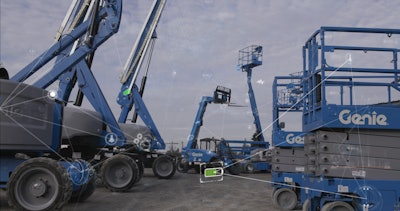 Genie's Lift Connect telematics program, available in early 2019 in North America, will offer actionable aerial lift machine information to users no matter which brands are in their mobile elevated work platform fleet, according to the company.
Featuring dashboards and alert notifications, the Genie Lift Connect program provides fleet managers "with tools to maximize efficiency and minimize downtime," says the company. Users will be able to leverage the data from mixed fleets in two ways: through the Genie Lift Connect portal or through an existing telematics program using a standard Application Program Interface (API), which allows two different software programs to communicate with each other.
Lift Connect underlines Genie's belief that "the more partners in the value chain with access to the machine data, the more efficient the rental industry becomes," says Christian Zeznick, Genie senior product development management, Terex AWP. "We've designed the new Genie Lift Connect solution to share more information than other offerings available in the industry. This is truly an evolution in Genie's telematics journey."
Zeznick says future program developments will go beyond today's descriptive information—machine hours, location and fault codes—to include both predictive and prescriptive activities, such as predicting failures based on how the equipment is used and proactively prescribing maintenance and service.