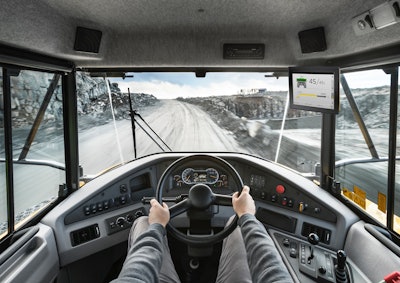 Volvo has launched a new load monitoring system for its articulated haulers that the company says allows operators to optimize their productivity using real-time data and project management tools.
The feature, called Haul Assist, lives on Volvo's 10-inch Co-Pilot display in the cab and is integrated with the company's On-Board Weighing system.
The system allows operator to use Haul Assist one one of two modes:
Project Mode: Operators can set up projects, add dump zones and material types, and provide targets, Volvo says. This mode and layout make it easier for the operator to monitor production and provide the office with progress reports. Reports can be generated by the system to provide productivity and efficiency information about the machine over a given period of time, or it can generate a report that specifies, by cycle, information for a given time period. All reports and data can be stored in the cloud or exported to a USB drive.
Trip Meter Mode: Gives the operator a payload counter (which can be reset), a cycle counter and other valuable payload information.
Operators also have access to what Volvo calls a "productivity dashboard," providing real-time productivity stats like tons per hour, tons per gallon or liter, carry-back and payload utilization. Operators can decide which of these stats to display on the screen and a target value can be added for each.
Volvo Haul Assist is standard on the A35G through the A60H haulers and will be an available option on the A25G and A30G models.
Volvo has created a video series of tutorials which you can bookmark here, or watch below.