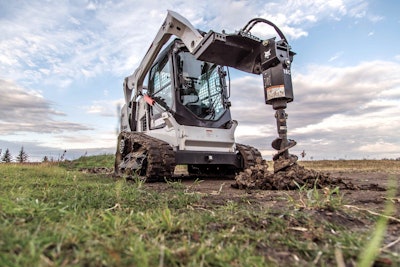 With Bobcat's Machine IQ wireless communication system generating heaps of useful data on machines in the field, the company has launched a new online dashboard for viewing it all.
Located at my.bobcat.com, the Bobcat Owner Portal website gives machine owners and fleet managers easy and quick access to machine location, operating hours, fuel level and machine maintenance alerts on the company's R-Series compact excavators and M2-Series skid-steer or compact track loaders.
Bobcat says the site, which can be personalized with custom machine names, can be viewed on any internet-connected device including smartphones, tablets and desktop or laptop computers.
The site provides customers with seven days of fault codes for connected machines, but also offers the option to subscribe to maintenance alert emails. These emails are sent whenever a machine generates a common fault code, or when machine maintenance is due, Bobcat says. The time-for-maintenance alerts also detail what parts they'll need for the needed maintenance and a service checklist for additional maintenance needs, the company says.
With this enhanced service monitoring, Bobcat says its dealers are better able to respond to customer needs for parts and service—often alerting customers to required maintenance before they're aware it's needed.
Beyond maintenance alerts, Bobcat Owner Portal can also send customers alerts when their machines leave a specified area, helping prevent theft. Bobcat says owners can also set curfews for their machines. These curfews trigger an alert whenever a machine is operated outside of designated hours.
For the future, Bobcat is planning on adding the ability to track machine efficiency and utilization in order to help owners make more informed decisions. The company is also planning to add a feature for fleet managers that allows them to get a better view of ownership costs.
Check out bobcat.com/owner-portal for more information, or see your local Bobcat dealer.