On top of a dirt hill, a Develon operator-less excavator performed intricate grading maneuvers with a tiltrotator. Then below, the company's autonomous dozer traveled around moving its blade to the contours of the ground.
The demonstration at this month's ConExpo – shown in the above video – gave audiences the first look at Develon's latest advancement in autonomous and remote-control technology. The first Concept X demonstration was shown to media in 2019 in South Korea, with a standard Doosan Infracore excavator and wheel loader working without operators. At the time, Doosan presented models of what the concept machines would look like and then followed up in 2022 at the Consumer Electronics Show as the newly formed Hyundai Doosan Infracore with an autonomous conceptual display.
Now as Develon, Concept-X2 appeared in real life at ConExpo 2023, showing off the new brand's glimpse of what it calls "The Future of Construction Jobsites."
No longer standard machinery wired for autonomy, the DX225-CX excavator and DD100-CX dozer did not have onboard operator stations. Instead, they were designed for full autonomy using technology such as drone imaging, LiDAR sensors and artificial intelligence. The machines were also able to be operated by remote-control units worn around the neck that can function up to 1,600 feet away.
Develon views the autonomous equipment as a way to perform tasks in areas that would be dangerous for operators or hard to access. Jobsite management and the machines are set by a control center that is centered on a drone, which automates the construction site survey with 3D scanning to develop an efficient work plan, the company says.
Concept-X2 also governs fleet management remotely and performs real-time self-diagnosis and monitoring of unmanned equipment for maintenance and risk prevention.
DX225-CX autonomous excavator
The autonomous excavator performed digging and dumping operations, as well 2D and 3D grading.
An artificial intelligence model was programmed into the excavator. The excavator uses a live onboard camera and LiDAR sensors for real-time terrain recognition. Coordinates were also set with the LiDAR-based system for automated grading and tiltrotator functions. All of its actions were visible on separate screens for viewers.
Develon says the system is 13% more productive than the first Concept X, and it has gained precise tiltrotator control. The battery on the remote control unit can operate up to three consecutive eight-hour days without recharging, the company says.
DD100-CX autonomous dozer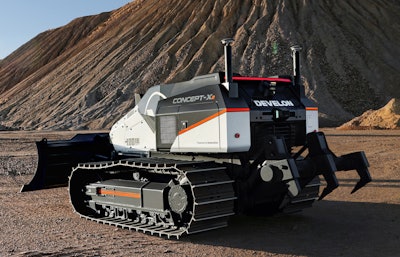 Also new for Concept-X2 is the autonomous dozer. It is based on the DD100, which came out in 2021 and marked the company's first entry into the machine category.
The DD100-CX was equipped with Trimble Global Navigation Satellite System. The dozer operated within a preset area and would automatically stop if it should exit those boundaries.
The blade was controlled via an electro-hydraulic system and the Trimble GNSS system's IMU sensors. Develon's new E-Stop technology automatically halts the dozer when it comes near an obstacle or person. The system uses a wide-angle sensor on the rear of the dozer to detect objects.
The dozer was also operated by remote control, performing drive, blade and ripper functions.
Road to autonomy
Though the autonomous excavator and dozer are now only prototypes, Develon is advancing toward bringing autonomous operation to market incrementally, as well as helping to manage the entire worksite digitally.
That's where the company's XiteCloud system comes into play, which was also displayed at ConExpo.
Develon calls XiteCloud an all-in-one smart construction platform. It can help customers manage multiple tasks such as "surveys, terrain analysis, machine purchases, equipment operation and construction management on a single platform." Develon says this reduces construction costs, saves time, and increases accuracy and productivity.
Develon plans to bring XiteCloud services to market in phases. Those services are:
XiteFleet – for real-time fleet monitoring with location tracking and operation monitoring.
XiteAuto – for automation, progressing from 3D machine control to, one day, autonomy.
XiteAnalyst – for digital earthwork analysis and management.
XiteSafety – for safety management, including preventing collisions between construction equipment and workers.