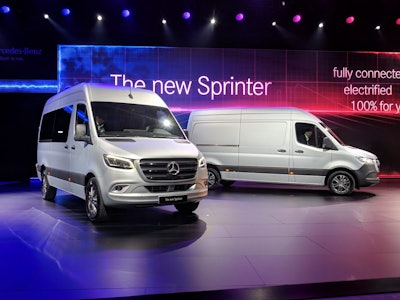 Mercedes-Benz Vans has introduced the all-new Sprinter van, the new flagship product of the van segment's global heavyweight. The third-generation Sprinter will be available for order in the U.S. later this year, likely in the fourth quarter. For the first time, the Sprinter will be offered in a gasoline option, in addition to the traditional diesel spec.
The van will be available in upwards of 1,000 different configurations, the company says, including four different body lengths, variable cargo space heights and variable tonnage capabilities, making the vehicle uniquely suited for a wide range of applications.
MBV says the new Sprinter has been retooled to meet the demands of key emerging megatrends looming in the transportation industry: urbanization, connectivity and dramatic shifts in consumerism stemming from online shopping. For freight transporters, the Sprinter intends to take on the challenging final-mile segment amid rapid growth in parcel deliveries stemming from e-commerce and the fast-growing e-grocery segment.
"The new Sprinter gives answers that are relevant to the entire industry," said Volker Mornhinweg, head of Mercedes-Benz Vans. "The Sprinter continues to embody the traditional attributes that have made it so successful worldwide since its market launch – flexibility, robustness and economy."
MBV did not specify a date by which the third-gen Sprinter will be available in the U.S., but it's targeting the end of 2018. Also, details about the van's powertrains also have not been released.
Mercedes-Benz unveiled the van, which first entered the U.S. market in 2001, in a global event in the port town of Duisburg, Germany, on Tuesday, following up on a preview event held in December.
The highly versatile vehicle will be available in more than 1,700 configurations, allowing it to be a player in a wide range of applications, says Mornhinweg. For freight applications, the vehicle is available in four different body lengths and a variety of cargo space heights and tonnage capabilities.
The van will also be factory-equipped with the Mercedes Pro telematics system, which offers real-time routing and fleet management capabilities.
All-electric, battery-powered Sprinter units, dubbed the eSprinter, will also be deployed around the world. Deployment of the eSprinter in the U.S. will likely lag behind other countries, such as those in Europe, says Mornhinweg. However, for the first time in the U.S., the new Sprinter will be offered with a gasoline engine, in addition to the usual diesel-powered option.