Workhorse will deploy the country's first fleet of all-electric, zero-emission N-GEN cargo vans next month in San Francisco through a partnership with Ryder, who serves as the exclusive maintenance provider for Workhorse's light- and medium-duty range-extended electric vehicle fleet in North America.
"Rolling out this history making fleet of N-GEN vans in one of the most innovative cities in America is something myself and the entire team are extremely proud of," says Duane Hughes, Workhorse President and COO. "This deployment is the first step towards transitioning the largest growing segment in the truck business into a zero-emission stronghold."
The N-GEN cargo vans feature an ultra-low floor and a high roof that was built to improve worker efficiency and reduce physical stress on the knees and back, while also maximizing cargo space in a small footprint.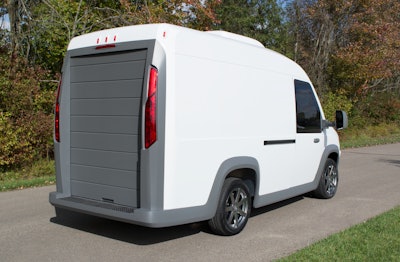 Ryder will support the electric vehicles with a combination of warranty and maintenance services as part of the Ryder SelectCare fleet maintenance portfolio. Ryder offers a network of 800 maintenance facilities across North Americato support the Workhorse electric vehicle fleet, maximizing uptime, lowering costs and keeping businesses moving.
The all-wheel drive N-GEN vans feature fast charging capabilities a 100 mile all-electric range. The built-in Workhorse Metron telematics system tracks all parameters in real time to optimize performance and efficiency. Design options will include collision avoidance system, automatic braking, lane centering warning and optional patented HorseFly unmanned package delivery drone.
First electric step vans hitting the road
W.B. Mason, the nation's second largest privately owned office products dealer, has taken delivery of Workhorse's larger E-GEN electric, range-extended step vans. W.B. Mason is taking delivery of four electric vehicles from Ryder this year.
"Making the switch to electric vehicles with Ryder was easy as we've trusted them to support our delivery operations with lease vehicles and maintenance services for over 35 years," says Leo J. Meehan III, president and CEO of W.B. Mason.
Ryder collaborated with Workhorse to develop the electric vehicle chassis and Morgan Olson to configure a customized truck specification that meets the company's delivery requirements. The vehicles will be supported by ChargePoint as the primary charging infrastructure provider.
Workhorse's E-GEN step van demonstrates a 40 MPGe fuel efficiency in on-the-road applications, which Workhorse says reduces vehicle emissions by 75 percent and is six times more efficient than conventional step vans. The E-GEN model provides an average range of 120 miles on a single charge, with 60 miles all-electric utilizing Panasonic Li-Ion battery packs, and an additional 60 miles using the integrated BMW range extender.