CM Truck Beds recently unveiled its specialized Hotshot model which is rated to tow up to 30,000 pounds.
This single-piece steel truck body is designed for ultimate strength and durability, with the industry's best hauling capacity and an array of standard features that deliver convenience, safety and ease for hotshot truck drivers.
"For hotshotters looking to beat the clock with a highly efficient and powerful rig, CM's new Hotshot is the answer," said CM Vice President Joe Lewis. "It's not only built tough and built smart, it also complements any truck with its sleek, head-turning appearance and precision-engineered fit."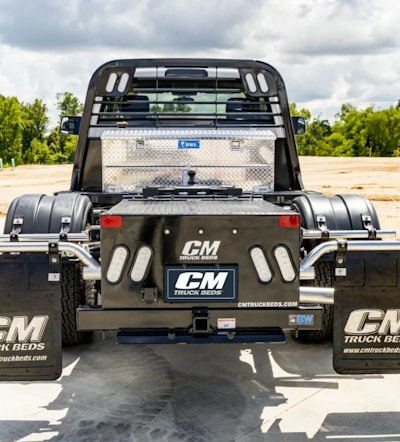 One of the Hotshot's standout features is its hauling capacity: The bed is rated for a whopping 30,000 pounds in both the gooseneck and 5th-wheel configurations, thanks to an exclusive partnership with CURT trailer hitches.
Hotshot also comes loaded with premium standard features not commonly found on a hotshot model including integrated LED lighting backed by a lifetime warranty; CM's single-piece tubular steel headache rack; and two integrated toolboxes with T-handle compression latches and automotive D-bulb weatherstripping, providing a secure place to stash tools and necessities. CM's unique Fuel Deck feature supports fuel tanks up to 18 inches deep allowing for fewer fuel stops.
"Hotshot trucking is a growing profession, with more and more people starting their own delivery services," said Lewis. "Many of our competitors are using kits, but real hotshotters don't want a kit — they want the real thing. Why settle for a box of loose pieces when you could have a turnkey solution, fully integrated, with all of the great features included in the CM Hotshot model?"