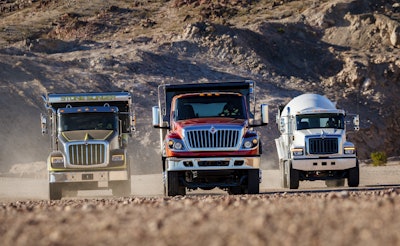 After nearly 10 months on the table, and with mutual interest surviving a global pandemic that saw truck orders slump to record lows for two consecutive months, Volkwagen's commercial truck business, Traton, is set to acquire Navistar for nearly $3.7 billion.
After sitting on an offer of $43 per share for more than a month, Navistar Friday morning countered an expiring "take it or leave it" letter from Traton with a higher asking price of $44.50. The figure put forward by the maker of International Trucks came with the support of the company's two largest stakeholders: Carl Icahn and MHR Fund Management LLC.
A buck-fifty doesn't sound like a lot, but when you own almost 17 million shares I guess it doesn't hurt to ask.
"We are pleased to have reached agreement in principle for a transaction after intensive negotiations with Navistar," Traton CEO Matthias Gründler said via statement Friday afternoon. "We are looking forward to completing our due diligence and obtaining the necessary approvals in respect of this exciting deal in order to welcome the new Traton family member."
Navistar and Traton partnered in a procurement joint venture and strategic technology and supply collaboration in 2016, beefing up both companies' ability to scale globally. Traton also took a 16.8% stake in the Lisle, Illinois truck maker in the tie-up. Dialogue between Navistar and Volkswagen – which also operates the MAN and Scania business units in Europe and abroad – began in 2015 on opportunities to synergize and strengthen each company, culminating in Volkswagen's investment.
Navistar and Traton are also entangled in some of their business interests. Each holds a minority position in self-driving tech company TuSimple. Traton, as part of the partnership, was slated to develop self-driving trucks for the European market. Navistar was to co-develop SAE Level 4 self-driving trucks targeted for production by 2024.
Business today is very worldwide.
There is still a lot of value in "made in America," but, truthfully, global engineering makes products and technology better. Navistar was the last holdout to formalize its global footprint and, frankly, it's impressive that Navistar – as a standalone trucking entity – was able to remain independent for as long as it did. Sure, it forged partnerships with the likes of Ford and, prior to its ownership stake, Volkswagen, but it always lacked the weave of a multi-national blanket that was so prevalent among its peers.
You can find DAF influences under the hood of Peterbilt and Kenworth trucks in MX engines, and Volvo's universal safety and technology fingerprints are all over its stateside tractors. However, even with rich global influence, the brands themselves retain much of their ingrained independence. Mack is able to leverage technical expertise throughout the Volvo network but it's distinctly its own thing. Mack is Mack, Volvo is Volvo and while they compete on the highway, both are better off for having each other.
Gründler said at Traton's Annual General Meeting in Munich earlier this month (pre-buyout) that the company plans to give its brands more individual responsibility and freedom, inferring that International Trucks will continue to be its own thing but with deeper roots of support around the world.
Despite their melting pot of influence, Kenworth, Peterbilt, Mack, Volvo, Freightliner and International are all uniquely American brands and "made in the U.S.A." Hundreds of international businesses have American divisions producing American goods by American employees for American consumers. In this case, it happens to be trucks.
Traton's impending marriage to Navistar will enable the full vertical integration of International Trucks. International was already producing more than capable, advanced and sophisticated tractors, but there's no denying the advantages that German-engineering can bring to the company. There's a reason that "German engineering" is a point of emphasis on many automotive commercials. It's largely seen as the standard bearer for precision.
But this is far from a one-way deal.
Volkswagen… err… Traton needs Navistar, too.
The global commercial vehicle market is expected to grow from $791.1 billion in 2019 to $815.3 billion in 2020 at a compound annual growth rate (CAGR) of 3.1%, according to Research and Markets, a low growth rate mainly spurred by economic slowdown due to the COVID-19 outbreak and the measures to contain it. The market is expected to recover and grow at a CAGR of 12% from 2021 and reach $1.1 trillion in 2023. North America was the largest region in the global commercial vehicle market, accounting for 65% in 2019.
Swallowing a 118-year-old U.S. truck manufacturer with an already expansive dealer network, a well-trained pool of parts and service technicians and a healthy customer base was always going to be the best way for Traton to crack the North American market.
This is exciting news for the trucking industry and especially for guys like me, who are eventually allowed to test drive new and innovative technologies and powertrains. As bad as this year has been on many levels, things are finally looking up.