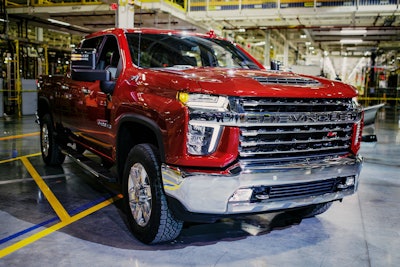 UPDATE: A new article from The Drive says that the delay to GM's plans to ramp up truck production were only temporary. This week the automaker plans to place three of its pickup production facilities back into three shifts of work in order to meet increased demand from dealers, The Drive reports.
---
GM's plans to double truck production at its factories in Indiana and Michigan have been put on hold due to a parts shortage from Mexico.
GM had planned to call in roughly 1,300 workers this week to increase pickup production but according to a report from The Wall Street Journal, those plans were shelved as the company's parts suppliers in Mexico failed to meet demand.
Despite ongoing COVID-19 challenges, particularly in Michigan where work restrictions have generated plenty of controversy, GM, Ford and FCA resumed auto production in Detroit last week.
The automaker has seen increased demand from dealers across the country for new pickups as customers take advantage of generous financing offers. GM is currently offering 0% interest financing for up to 84 months on Chevrolet Silverado and GMC Sierra pickups.