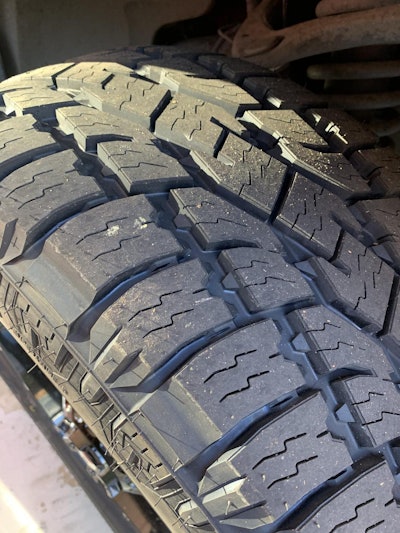 Man, 2020 has been wild, right?
During 2019 I tested a set of Cooper's AT3-XLT tires and planned to ring in the new year with a fresh set of rubber – this time from Toyo.
I got four brand new Toyo Open County A/T III tires mounted to my 2017 F-150 in January, but the entire world got turned upside down before I was even able to scrub off that new rubber smell.
Big picture: Delaying the review of Toyo's leading on/off-road tire is a small blip on the global pandemic radar, but it's nice that things are starting to get back to some measure of normal.
First off, let's talk aesthetics. This is a good-looking set of shoes, and for a period of about three months looking at them was about all I could do.
With jobsites and many of my off-road haunts shutdown and tagged non-essential, I got more soap on these tires than I did mud early on in the year, but things in the Southeast have started to loosen up a little and I've finally been able to get this set in the dirt.
My home state, Alabama, started opening things up about the time we were getting some unseasonably wet spring weather. Summer has been somewhat dry, and I've been able to put the tires through their paces in some less-than-ideal traction conditions.
However, the first real-world stress test for this set of rubber came rather unexpectedly.
My family joined some friends Memorial Day weekend for some lime rock pond swimming. While the adults were enjoying a dip in the crystal blue water and some frosty cold ones, the kids went off on an ATV trail ride.
The ride lasted about 5 minutes because they flipped it, necessitating a quick trip to the local hospital 90 minutes away.
We loaded the battered kids up in my truck, dropped it in four wheel drive, and tore off on the loose stone dirt road toward the highway. In hindsight, I couldn't have been more impressed with the way the tires handled the loose-traction surface. The speed I was driving didn't make matters any easier, but the tire grip was top-notch. This isn't an easy trail to navigate under the best of conditions, but the A/T III were plowing ahead.
I wasn't concisely thinking about any of this on the drive the hospital, but once things calmed down (and I realized we made some pretty incredible time!), I got to thinking about how uneventful the drive off the trail was, when even under the better circumstances it's not easy.
(Side note: With the exception of a broken nose, collar bone and ankle, the kids pulled through just fine.)
With late summer and fall just ahead, I've got my hopes pinned on getting these tires lost on some logging and hunting trails, and maybe a little more time on the highway once we're all allowed to go places freely again.