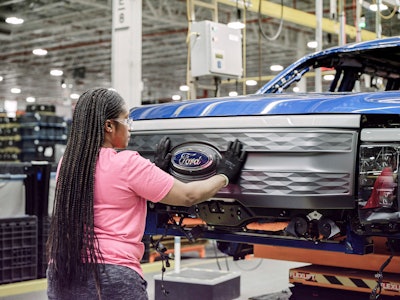 Ford
It's a tough way to make a re-entrance.
First came the production stop on the electric F-150 Lightning in mid-February following a battery fire. Next came a battery recall. And then while Ford was putting its first full-size electric truck back into production following a roughly three-week hiatus, news broke about a higher starting price.
MSRP for Lightning now starts at $61,869 (including $1,895 destination charges), or roughly 50% higher than when the truck was first introduced last April. The entry-level Lightning comes standard with a 98 kWh battery pack that's advertised with 240 miles of range.
Similar to the last two price hikes, Ford told Car and Driver that the most recent uptick was owed to "current material costs, market factors and supply chain constraints."
Despite the ongoing price increases, customers are apparently lining up for Lightning. Ford states on its website that "Due to high demand, the current model year is no longer available for retail order. Contact your dealer for more information."
A search here in Panama City, Florida, showed the nearest Lightning for sale 55 miles away in Marianna. A used Lightning Lariat SuperCrew at a Ram dealership there is selling for $76,995, according to edmunds.com.
The vehicle shopping site shows more used Lightnings for sale across the U.S. than brand new ones. On April 5, there were 69 new 2022 Lightnings versus 492 used models for sale. For model year 2023, 346 new Lightnings were posted for purchase versus 105 used 2023 Lightnings.
A used 2023 Lightning Platinum SuperCrew at Atlanta Autos topped the price list at $123,999. The lowest priced Lightning, a new Pro SuperCrew, was listed for $54,864 at All American Ford in Old Bridge, New Jersey.