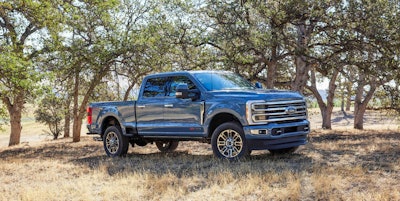 Ford
For contractors whose pickup has become a roving office, the 2023 Ford Super Duty just might be the truck for you.
The new F-Series pickup and Chassis Cab models are "designed to make life on or away from the jobsite more convenient and time-efficient than ever," the company says.
To achieve that goal, Ford has decked out the Super Duty with all kinds of technology, including an industry-first Tailgate Down Camera for backing up to load docks, an automatic trailer connection system and an embedded 5G modem that can connect up to 10 devices and provide faster Wi-Fi, mapping and navigation on the jobsite. It also gets a roomier interior and workstation.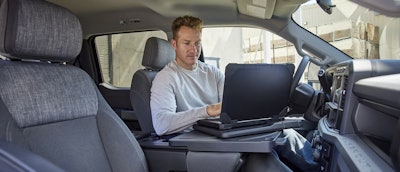 You can even bring power to the jobsite with the optional Pro Power Onboard. It delivers 2 kilowatts with outlets in the truck and cargo box, or mounted on the chassis with optional installation kit. Ford says it delivers "five times more exportable power than any heavy-duty pickup."
When it comes time to haul equipment, the Super Duty boasts best-in-class max payload of 8,000 pounds (on the F-350 DRW Regular Cab 4X2 XL trim with gas Heavy-Duty Payload Package), and max available diesel gooseneck towing of 40,000 pounds (on the F-450 Reg Cab with available 6.7-liter HO diesel engine and 40,000 lbs. Gooseneck Tow Package).
Also best in class are the 430-horsepower V8 gas engine with 485 pound-feet of torque and the 500-horsepower V8 diesel that delivers 1,200 pound-feet of torque, which buyers can choose.
Tech for Easier Towing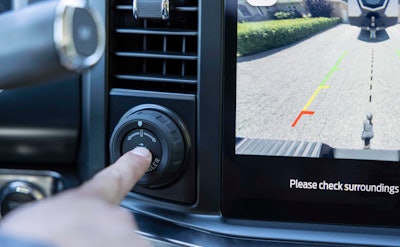 The new tech extends to towing with Ford's optional Pro Trailer Hitch Assist, which uses machine learning and computer vision to automatically link hitch ball and trailer hitch with the touch of a button. Ford says the industry-first system automatically identifies the trailer hitch and aligns the truck's hitch ball to it. With a rear camera and rear corner radars, it simultaneously controls the truck's speed, steering and braking to make the connection.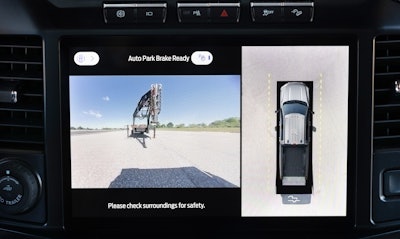 The Tailgate Down Camera mentioned earlier combined with Rear Park Aid Sensors positioned on top of the tailgate deliver visual and audible alerts to make it easier to back up with the tailgate down for approaching a loading dock or hitching a gooseneck or fifth-wheel trailer.
Other handy towing tech includes:
Onboard Scales with Smart Hitch – Estimates payload in real time and provides guidance on trailer tongue weight distribution directly on the center touchscreen or within the taillamps.
Blind Spot Information System (BLIS) for Fifth Wheel and Gooseneck – Can be attached to a trailer to help identify when vehicles are next to a trailer and indicate this in the side view mirrors.
Pro Trailer Navigation – Plots routes that can be navigated with given trailer dimensions and weight to avoid potential issues with low bridges and tight turns.
Trail Turn Assist – Enables drivers to virtually lock either rear wheel to shrink their turn radius to 180 degrees while navigating tight corners on the trail.
Tech for Cranes, Snowplows, Etc.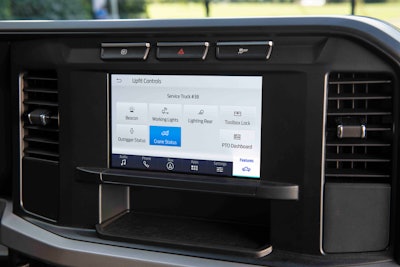 For installing aftermarket devices such as utility cranes or snowplows, the new Ford Pro Upfit Integration System is available on the Super Duty.
The system makes it easier to access the truck's electrical system and signals to the equipment, and equipment manufacturers can add digital buttons to operate their equipment from the truck's SYNC touchscreen, Ford says. "The system also allows for high levels of customization and interlocks, like preventing the transmission from shifting into drive with a raised boom lift."
The Super Duty can also be linked to the subscription-based Ford Pro Telematics for fleet management.
Pricing
Ford offers 18 different models to choose from for the 2023 Super Duty, with a dizzying array of packages and options.
MSRP for the F-250 XL starts at $43,970; the F-350 XL at $45,015; and the F-450 XL at $58,455.
And on up they go to the F-250 Limited starting at $96,095; the F-350 Limited at $97,270; and the F-450 Limited at $103,030.
Another 11 models are available for the Chassis Cab:
Chassis Cab F-350 XL, XLT and Lariat with starting MSRP at $46,665 - $61,140.
Chassis Cab F-450 XL, XLT and Lariat with starting MSRP at $49,745 - $64,810.
Chassis Cab F-550 XL, XLT and Lariat with starting MSRP at $50,845 - $65,910.
Chassis Cab F-600 XL and XLT with starting MSRP at $54,505 - $57,435.