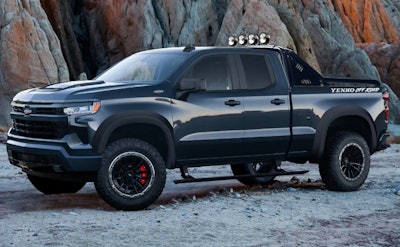 Specialty Vehicle Engineering
Chevy fans looking for more power beyond a Ford Raptor or Ram TRX can turn to Specialty Vehicle Engineering for two supercharged V8 options.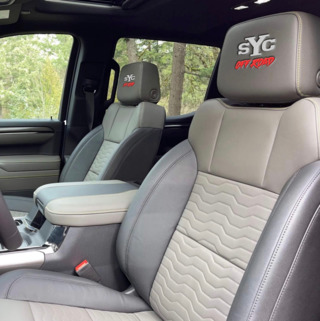 In the spirit of the legendary Yenko Camaros, SVE is offering the 2023 700-horsepower and 800-horsepower Yenko SC/Supercharged Silverado Off Road pickup.
The 800-horsepower Yenko surpasses Ford's 405-hp Raptor, 700-hp Raptor R and Ram's 702-hp TRX. However, it doesn't look like SVE's build is flight worthy, so Ford and Ram edge out the truck in the growing category of airborne-capable trucks.
The 700-hp Yenko/SC Silverado is built on Chevy's 5.3-liter V8, while the 800-hp variant is brought to life on the larger 6.2-liter V8.
Both engines feature a blueprinted aluminum block, race-quality computer-balanced rotating assembly, including forged 1538MV twisted steel crankshaft and forged aluminum pistons, upgraded cylinder heads, and SVE's own high-output supercharger assembly. A custom stainless steel exhaust system is included.
SVE's new patent-pending Boost-by-Wire Control System provides variable boost control at the supercharger to better manage all that power when you need it and when you don't. The system provides boost based on accelerator position: floor it and it will maximize boost for hair-raising fun; press it lightly and it will provide a small amount of boost to keep the truck more manageable at times when all that power isn't needed. SVE reports that the result is a more pleasant driving experience.
A Unique hood insert is manufactured from OEM quality high-impact composite material and comes standard in gloss-finish body color with flat black louvers and 700-hp or 800-hp badges.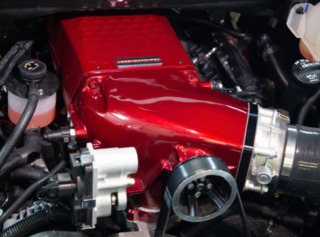 91 or 93-octane calibrations availableThe redesigned GM hood insert on LT Trail Boss and ZR2 models get a body color paint treatment with flat black center inset and louvers.
Aggressive 1/4 panel graphics and unique wheels make a dramatic statement. Custom 700-hp or 800-hp badges on the hood insert and tailgate put the competition on notice.
An optional leather seat trim package features black or gray leather surround with leather inserts available in seven colors plus black/white houndstooth cloth. The SYC Off Road logo is embroidered on the head rests and the Yenko crest on the seat backs. The leather seats are accented by a choice of stitching colors to match the inserts.
If you're thinking of chasing down one of these limited production trucks, you better act fast. Only 50 each of the 2023 700-hp and 800-hp Yenko/SC Silverado Off Road pickups will be built.