Ram
Finding a used pickup with low miles at a decent price is a long shot as used vehicle values along with their odometers get hit with historic increases.
The average price for a used vehicle has soared 47.7% since the pandemic, with the Ram 1500 topping a list of best-selling used cars compiled by iSeeCars.
A used half-ton Ram had an average price of $27,324 in 2019. It's now reached $42,881 – a 56.9% jump.
Four other pickups made the list of 23 vehicles. The GMC Sierra 1500 took the fifth spot with an average price of $32,862 in 2019. It has since spiked 44.1% to $47,364.
The Chevy Silverado 1500 is number 11 on the list with an average value of $29,629 in 2019 to $40,359 today, a 36.2% jump.
Coming in at 13th place, the Ford F-150 was selling for $31,520 four years ago. That price is now up 33.6% to $42,104.
The last pickup on the list, the Toyota Tacoma, claimed the 17th spot with an average price of $28,443 in 2019. The nation's best-selling midsize truck is now selling for an average of $36,675, a 28.9% jump.
But it's not so much the jump in prices that's caught the attention of iSeeCars Executive Analyst Karl Brauer. It's the mileage.
"While the spike in used car prices is unprecedented, the real surprise relates to used car mileage," Brauer said. "Used car shoppers are now paying nearly 50 percent more money for cars that are 20 percent more used."
Within the sub-$20,000 price range, the average used car's mileage was 43,541 in 2019. Now it's 63,457, a 45.7 increase.
"During the pandemic lockdowns one of the few things people could still do was take a drive, and clearly many of them did," said Brauer. "This drove up the mileage across the used car market, but the supply of new and used cars was so constricted that the additional mileage didn't hurt used car prices – they still went up."
The post-pandemic uptick in used vehicle values is a sharp departure from prior pricing trends. iSeeCars analyzed over 10.8 million 1- to 5-year-old used cars and found the average used car cost $22,493 in 2015, with a slight bump to $23,351 in 2019. But over the last four years, used car prices soared to $34,491 in 2023, a 47.7% rise resulting in an average price hike of more than 10% each year.
"Among the pandemic's many casualties is the affordable used car, which has nearly vanished from the used car marketplace," Brauer said. "In 2019, used car shoppers with a budget of $15,000 could afford over 20 percent of the late-model used car market. Today that budget only gets them access to 1.6 percent of the market."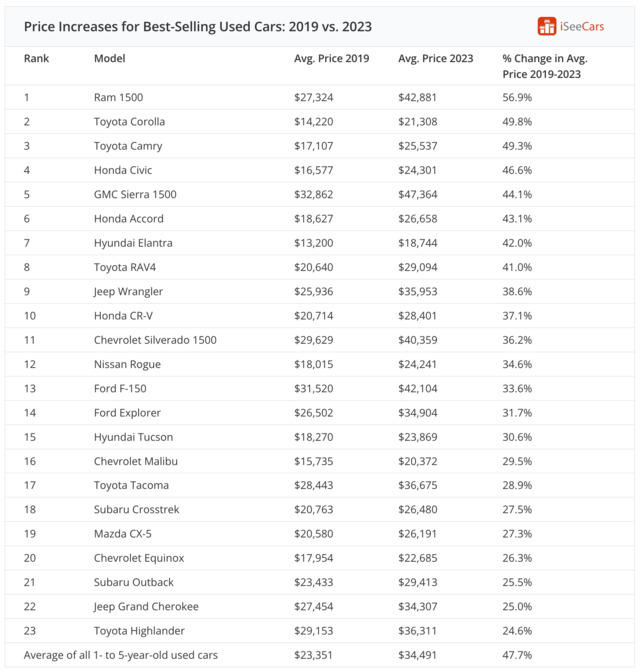 iSeeCars