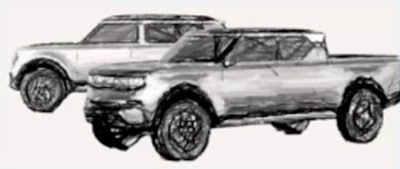 Volkswagen Group
The race to build zero-emission trucks has led to several new partnerships and acquisitions.
In Volkswagen's case, it's reviving a classic that was last produced over 40 years ago.
Volkswagen Group spun off Scout Motors with headquarters in Tysons, Virginia, and revealed plans for an EV manufacturing plant planned near Columbia, South Carolina, where the company announced it "will build next-generation trucks and rugged SUVs harkening back to the iconic Scout vehicles produced from 1960 to 1980."
Following World War II, a market for four-wheel-drive pickups in the U.S. began to emerge, driven largely by returning GIs who had grown fond of American-built 4x4 trucks that had initially been produced for military use. Jeep, International Harvester and Ram (then Dodge) were among the early manufacturers of light and heavy-duty four-wheel-drive vehicles intended for civilian use following the war.
The Scout 80 was the first 4x4 pickup International rolled out for model year 1960. According to Hemmings, "The 13-foot-long, 3,000-pound Scout 80 was initially offered to buyers with their choice of a removable pickup cap or removable full-length Travel Top, in two- or four-wheel drive and with a folding windshield."
The success of the Scout 80 brought on additional models through subsequent years, including hardtop SUVs. International pickups and SUVs continue to carve out a bigger niche among collectors, according to Hemmings, and have inspired online forums and devotee websites.
Scout Motors seeks to capitalize on nostalgia for the brand with an all-electric SUV and pickup both of which are scheduled to roll out in 2026. A video promoting the revived brand was shown recently at the Volkswagen Group Capital Markets Day in Hockenheimring, Germany. While Scout's latest SUV and pickup were not shown, several International pickups and SUVs produced decades ago were shown taking on tough terrain.
Scout Motors expects to build 100,000 electric trucks and SUVs annually at its South Carolina plant.
"The North American market and the U.S. market in particular offers the greatest strategic upside potential for Volkswagen," Volkswagen Group CFO and COO Arno Antlitz said recently.
"In terms of growth, market share, in terms of value creation and impact on the industry's current transition to zero-emission vehicles," Antlitz continued. "So far we are not represented in the most profitable segments such as SUV and pickup, but now all of a sudden, this market is turning electric, and we have all the ingredients to be a significant driver of that change."
While Volkswagen has been quiet on Scout SUV and pickup capabilities, we did manage to get a screenshot of both EVs from a slide displayed during Antlitz's presentation. Of course, it's hard to say if the final product will resemble the conceptual rendering at the top of this story.
Volkswagen could have an advantage with battery chemistry. The automaker partnered with California-based QuantumScape to produce solid-state batteries, which reportedly have nearly twice the energy density of conventional lithium-ion while weighing significantly less and offering greater thermal stability.
Volkswagen took some heat from truck buyers for not making its midsize Amarok available in the U.S. and Canada. VW partnered with Ford to build the truck.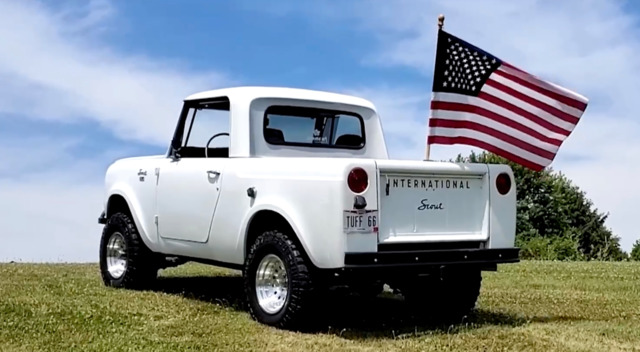 Internation Harvester pickup shown during a promotional video for Volkswagen subsidiary ScoutVolkwagen Group