While this beautiful 1962 C-10 was one of the more eye-catching resto-mod pickups on the show floor at SEMA this year, it was basically just window dressing for what Chevy is calling the eCrate, an electric crate motor concept.
Check out our video below for a comprehensive walkaround of this "E-10" concept truck and powertrain kit, including an interview with Chevy's Shad Balch.
This eCrate kit is made up of a double stack of electric drive motors and two 400-volt lithium batteries, each delivering 60 kWh of usable energy to the drive stack. The batteries are production models taken straight from Chevy's Bolt EV and can be charged simultaneously or one at a time.
The motor is mated to a SuperMatic 4L75-E automatic transmission which delivers torque to the rear axle of the truck.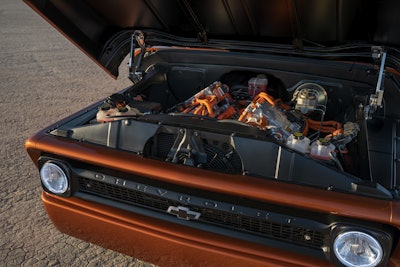 The eCrate produces 450 horsepower, though Chevy did not provide a torque number. However, they did say that this E-10 is capable of 0-60 times of around 5 seconds and quarter mile times in the high 13 second range. Chevy says that should this crate kit go into production it would be capable of up to 1,000 hp.
To fit this kit to the 62 C-10, Chevy replaced the classic truck's gas engine with the double stack motor under the hood. The two batteries were placed in the bed of the truck and they use up just about every inch of available space.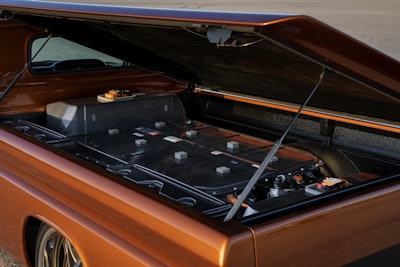 Normally in EVs, those batteries would be integrated into the chassis. But given the fact that this is a concept and Chevy wanted the whole kit to be visible on the show floor, they opted to simply drop them in the bed. However, because this is a concept crate kit, it still raises some questions as to how easy a conversion using this ecrate kit would actually be, especially if the vehicle being converted has no truck bed.
It's worth noting however, that Chevy says the entire electric conversion only took 18 weeks and that includes the development of this eCrate kit and fitting it to the vehicle.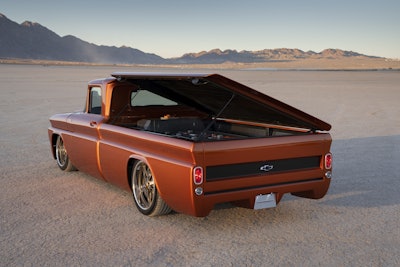 Chevy says it built the "E-10" to gather responses from custom builders to gauge interest in an electric crate kit. And given the positive feedback and buzz the truck elicited at the show, Chevy might just have to deliver a production kit in the next few years as they did with the Alaskan Silverado HD and the Carhartt Special Edition Silverado HD.