With its first electric pickup Ford has managed to pack in a lot of capability, while implementing design decisions and a pricing strategy that keep this truck within reach of most people. And it could be one heck of a work/fleet truck. Check out the video above for all the details.

The best selling vehicle in the U.S. for the last 45 years is now available with 100 percent less engine. That's pretty remarkable, especially considering that it's a pickup.

After a couple years of hype-building, last week Ford finally took the wraps off of its fully electric F-150. And what's so refreshing about this truck is that it's a new electric vehicle aimed not at spectacle, but at practicality. It's a normal, everyday truck aimed at working people.

They're calling this truck the F-150 Lightning, obviously appropriate thanks to the new electric power train, but also a name that represents the resurrection of a model name that became iconic between 1993 and 2004. The Original first- and second-generation F-150 Lightning s were muscle trucks, a unique blend of sports car function and pickup form. They were powered by big V8 engines ,and as the first purpose-built enthusiast pickups, they tried a lot of things first.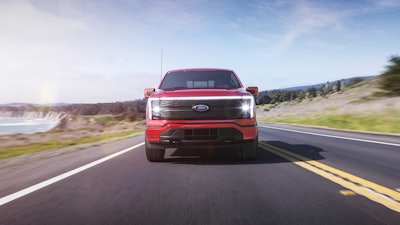 With that legacy behind the Lightning name in mind, it's very cool that the new Lightning trucks are named not just for a pun but because of performance as well. This is the fastest accelerating and best-handling F-150 ever produced. Even faster than the Raptor.

In fact during the live unveiling a Ford executive said — and I quote: "It hauls ass. ... It might as well have a Superman cape and a Captain America shield."

But what's interesting to me is that Ford managed to pack in a lot of capability, while making a lot of design decisions and a pricing strategy that keep this truck within reach of most people.

Let's just get this out of the way: Ford has packed a lot of capability into its very first battery-powered pickup while managing to make it affordable for those who will actually put that capability to use. What a refreshing concept.

The truck starts at $39,974, while the XLT model starts at $52,974. And that's before tax credits. Ford is one of the automakers still eligible for $7,500 in federal tax credits to be applied to a purchase. The F-150 Lightning is a very impressive pickup as we'll dig into in a bit. For instance, thanks to the design of the truck, 4x4 is standard at every trim level. But with this pricing, Ford has made a very different move than GM did with its Hummer EV.
The Hummer Edition 1 starts at $100,000, and while it might have crab steer and a bunch of other whiz-bang features, that starting price has always felt very prohibitive to me. Almost like GM doesn't want a bunch of people to buy the truck.

In contrast, Ford definitely wants as many people as possible to buy the F-150 Lightning. Like I said, the Lightning is much more practical than spectacle. I think that's why this truck is going to be very successful.
Design and Build

Maybe the most apparent sign of this truck's practicality is its design. It looks like a normal pickup, unlike the Hummer EV and especially Tesla's Cybertruck.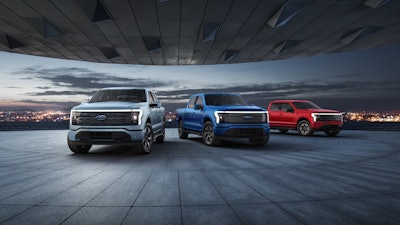 Ford did a funky wraparound LED bar in the front and back — which I personally like — but apart from that, the body styling looks identical to a 2022 crew cab F-150. In fact if you opt for the Lightning Pro — that's the $39,000 base model — you won't even have the wraparound LED light bars. Making that base model even more normal looking.

But once you get below that aluminum body and exterior, that's where things start to differ quite a bit.
Performance

Like every other electric vehicle, the 2022 F-150 Lightning sits on a skateboard chassis where the entire powertrain is pretty much located between the frame rails. The battery array is nestled between the two axles. Ford hasn't offered up a whole lot of information about the actual battery technology at play here, but we do know a few details.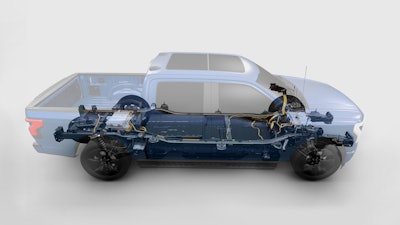 For starters, two battery packs will be offered: a standard range and an extended range. Ford hasn't noted the actual capacities of these batteries, but they have shared that the standard range pack will get you 230 miles of range before a recharge is needed, while the extended range will give you 300 miles of range.

The weight of the battery packs along with an independent rear suspension — the first in an F-150 — combined with the Lightning's overall lower center of gravity provide a more stable ride than its gas and diesel-powered counterparts while also reducing steering roll.

I mentioned that 4x4 is standard no matter what level of Lightning you buy, and that's because every Lightning that rolls off the line has the same dual-motor drivetrain with one motor powering each axle.

The 4x4 system on these trucks has four selectable drive modes: normal, sport, off-road and tow-haul.

And if you do want to go off-road, don't worry about mixing your electric truck with wet conditions. The battery array itself is surrounded by a waterproof casing and a crash-absorption protection to protect it from the nastiest of conditions. Plus, Ford says the truck has been tested at temperatures as low as -40 Fahrenheit.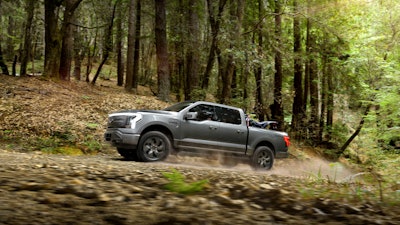 There is one note of differentiation to make here when it comes to the powertrain. In its original announcement, Ford only gave one horsepower number: 563. That number seemingly applied to both the standard and extended-range battery packs. But in its full announcement of the base model Lightning Pro, the automaker made mention of the standard range on that trim only delivering 426 horsepower. It's unclear if that will apply to all trims or just that Pro model, but we're hoping to get more clarification in the future.
The good news is that no matter what battery you get, 775 pound-feet of torque will be available to you. That means each of these trucks can get from 0-60 in right around 4.5 seconds.

A few more specs to throw out, the Lightning has a maximum payload rating of 2,000 pounds and a max towing capacity of 10,000 pounds. And while the move to battery power has not shaved off capability in a very meaningful way, Ford is tight-lipped on how throwing 10,000 pounds onto the back of one of these trucks will impact your range. I imagine it will impact it a lot — in a bad way — but here's hoping.

Though Ford isn't saying anything about that impact on range, one new feature on the Lightning shows that they are definitely aware of payload and towing's impact.

For the first time, Ford has integrated Onboard Scales into this F-150, giving you and the truck real-time payload monitoring in order to allow the truck to provide accurate range calculations. So at least we know the truck will take payload into account and offer a real-time depiction of range.

Speaking of range, what about charging? I have a whole separate video and post on the challenge of charging coming up soon, but for this one, we're going to stick to the highlights.

Depending on the charger you have at the ready, charging the F-150 Lightning can take anywhere from around 1 hour to more than three days. The 1-hour figure is if you happen to find a 150-kW DC fast charging plug out on the highway. The three-day figure is if you try to charge up the truck at home using a standard 120-watt outlet.

However, Ford is at least helping a little bit by throwing in an 80-amp at-home charging station in as standard equipment — for those who buy a model with the extended-range battery. That at-home charging station provides 30 miles of range per hour, meaning you can fully charge the truck at home overnight.

On the base model Lightning Pro with standard range, Ford says it is providing commercial customers with a 32-amp mobile charger. That charger can charge the the truck in about 14 hours.

For those who need a lot of range a lot of the time, with 230 or 300 miles of range, this truck obviously isn't ready for prime time yet.
An Attractive Work Truck

But it could be a very interesting option for those in the trades or anyone who uses their truck for actual work and drives less than 250 miles each day.

And here's the thing, Ford says it analyzed more than 145 million miles of telematics data and found that 95 percent of F-150 customers who use the truck for work drive less than 174 miles each day.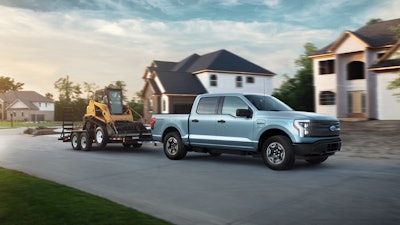 Ford says the base model truck, the one that starts at $39,000, is being aimed specifically at commercial and fleet owners. Ford says that fleet truck represents the lowest cost of ownership of any truck the company has ever made.

No engine maintenance. No oil changes. No fuel bill. Ultimately, Ford says, the Lightning should reduce maintenance costs by 40% over eight years or 100,000 miles.

Plus, like its fuel-powered counterparts, the F-150 Lightning has Ford's Pro Power Onboard generator and a ton of outlet locations in both the front and back of the truck.

Speaking of the front of the truck, Ford has made great usage of the under-hood space where the engine used to live.

This new "Frunk," or front trunk, has 400 liters of storage space and can haul up to 400 pounds of payload. How nice will it be for the first time to secure tools and other valuable items and materials in the front of the truck without having to put them in the cab or leaving them vulnerable in the bed.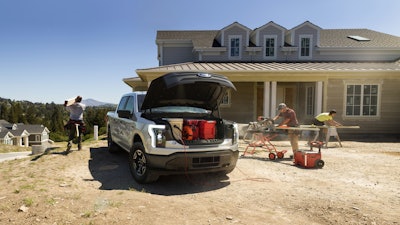 Plus, the outlets inside can provide up to 2.4kW of power — enough for power tools, TVs and more.

Another nice little design feature: when you lift the hood, the grille goes with it, meaning you won't have to reach in and over anything to get to your stuff.

Plus, there's all the space in the bed along with up to 7.2kW more generator power to the outlets back there. Ford has also made sure the bed is designed for easy uplifting, and they even built working space and a work platform into the center console and the tailgate. And there's ample payload and towing and a low ownership cost.

Another nice fleet-specific feature is Ford and EV Telematics.

The F-150 Lightning comes standard with a 4G LTE modem. When you activate it, Ford begins providing you with connectivity services and EV-specific operation data to help businesses keep an eye on real-time costs and uptime.

Through the system dashboard fleets can access how much power their trucks are consuming, how quickly the trucks are charging, current available range, in-cab driver coaching, severe incident notifications and remote vehicle pre-conditioning.

So, in sum, this might be the most interesting or attractive fleet truck ever built — which is not a thing I expected to say about the electric F-150. Plus, it's pretty cool that there's a fleet truck that can do 0-60 in 4.5 seconds.

In the end, I think Ford really knocked it out of the park on this first-generation electric F-150. There's a lot to like here. It will be interesting to see how many of these actually sell, but it's already a very attractive option for fleets and tradespepole.

Ford is offering reservations for $100 through its website with the ability to order in the fall of this year. The first F-150 Lightnings will start to arrive in Spring 2022.