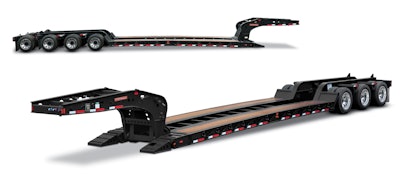 Fontaine Heavy-Haul's new Magnitude 55L lowbed trailer can carry additional payload without a spread axle configuration, the company says.
The Springville, Alabama-based company says it was able to shed 2,000 pounds by using a close-coupled-only design. That means if a hauler only needs three or four axles close-coupled, the trailer can carry an additional ton.
The 55L can handle 55 tons in 13 feet on its 26-foot deck length. It has a loaded deck height of 18 inches and 6 inches of ground clearance.
The hydraulic gooseneck takes only seconds for connection and disconnection and can be connected and disconnected on uneven ground, the company says.