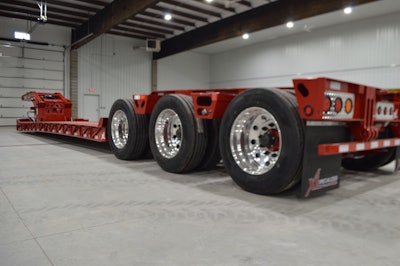 XL Specialized Trailers' new Low-Profile Hydraulic Detachable Gooseneck trailer has a loaded deck height of 15 inches and a ground clearance of 4.5 inches.
The company says the flat-deck lowboy can accommodate loads for commercial and construction applications that might otherwise require a dropside trailer.
The trailer has a capacity of 110,000 pounds in 12 feet. The 13-foot hydraulic gooseneck detaches and reattaches quickly with a power unit or wet kit, the company says. Its sloped nose protects the air and electronic connections. The gooseneck has a swing clearance of 9 feet 2 inches, and its front panel provides easy access to the engine.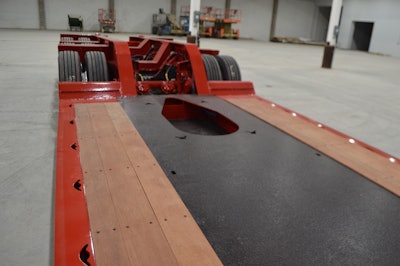 "The neck also offers a five-position ride height," the company says. "Based on neck position and load, the deck can be leveled as needed with the adjustable wheel area ride height. A work light in the upper deck increases visibility when monitoring the load at night."
XL boosted the strength-to-weight ratio with the trailer's three-bean deck design. The main deck has a well in the rear for excavator buckets, a toolbox up front, seven pairs of bent d-rings along the outer beams for tie-downs, 12 chain drops on each side on the outer rails, four chain drops around the toolbox and swing-out outriggers on 24-inch centers.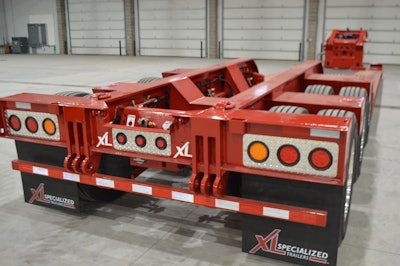 The wheel area has a drop bolster height of 37 inches for loading machinery onto the back of the trailer. The third axle airlift can lift up when not in use to save on tire wear.
XL also designed the trailer for easy access to the rear controls and the air control valve. The trailer can accommodate a fourth axles if needed. Bolt-on wheel covers are available for driving or parking on.