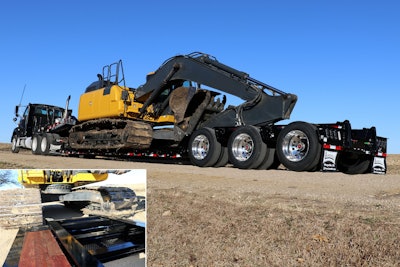 Landoll has a new option especially useful in hauling large equipment such as excavators, cranes and other machines that require the lowest deck height possible.
Available on Landoll's Models 855 and 860 Construction Series Detachable trailers, the drop side trailer option features a 5-inch lowered track area and a raised center.
The outer track area is only 14.37 inches from the ground with a 6-inch ground clearance fully loaded. The track area is covered with 2-inch-thick by 24-inch-wide Apitong hardwood trailer decking into the 54-inch-wide main frame.
Both models feature Landoll's patented gooseneck, operated by one hydraulic lever that fully detaches and carries the neck away from the lower deck. To reconnect, simply back up and the alignment wedge centers the neck and the "A" frame load carrier relocks the lower deck and lifts the trailer to transport position.