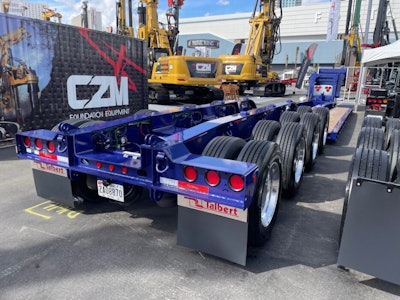 Talbert
Offering greater flexibility to meet varying state load requirements, Talbert Manufacturing's 60CC-RC customized trailer uses a fixed four-axle close-couple design. A fifth-axle option is also available for improved weight distribution to meet load restrictions in several Northeastern states.
The trailer, designed for Bill Miller Equipment Sales, was featured at ConExpo-Con/Agg 2023.
"As customers diversify their operations to accommodate changes in the industry and equipment designs, they require more flexibility from their trailers," says Troy Geisler, vice president of sales and marketing for Talbert.
"Trailers are often an afterthought," continues Geisler, "but Bill Miller Equipment recognizes that purchasing a trailer that is custom engineered to meet ever-changing weight and height requirements is an investment that will put them ahead in the long run."
The Talbert 60CC-RC features a ratchet gooseneck design and a 28-foot deck length (27-foot, 6-inch clear deck length) with a 114-inch swing radius. It also has a 24-inch flip-up and removable gooseneck extension for a 138-inch swing radius.
The deck, featuring a 9-foot, 6-inch-wide raised center deck, has capabilities for an additional 4-foot reinforced beam deck and 6-foot raised center deck inserts. Using four close-coupled axles in 13 feet, the 60-ton capacity trailer can safely haul concentrated loads.
The 60CC-RC is built with Talbert's standard heavy-duty, 100,000-psi minimum-yield T-1 steel and Valspar R-Cure 800 paint with clearcoat, features that offer durability and longevity.