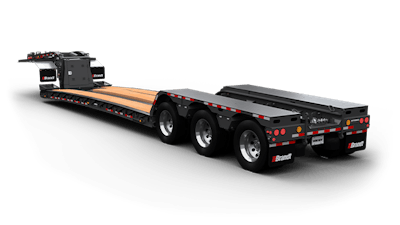 Brandt
With the largest deck well in the industry, Brandt says its new C550 construction trailer can haul a variety of equipment with ease.
The C550, which debuted at ConExpo 2023, features a hydraulic removable gooseneck and an 18-inch deck height at 6-inch ground clearance. The narrow, low-profile gooseneck design allows equipment to straddle the gooseneck and be loaded farther forward. Brandt says this provides a greater range of room to balance the load and pushes more load weight onto the truck tractor.
Equipped with a standard 8-foot knuckle trough and the deepest rear boom trough in the industry, the C550 is ideal for hauling excavators and reduces the need for over-height permits. Suspension height can be adjusted from 5 inches to 8 inches in plus or minus 1.5-inch increments for optimal ground clearance when navigating various road conditions.
The OEM-grade braided loom harness has sealed weatherpack connections to reduce the chance of failure. LED work lights are located on the back of the gooseneck, making deck work safer at night or in low light conditions.
Chain pockets, D-rings, and chain cutouts are conveniently located for faster chain-down times.
For longer component life and easier serviceability, the hydraulic cylinders have a protective sleeve over the cylinder ram and suspension controls are located inside the driver's side panel. The C550 is built with premium QT100 steel.
An optional 14-horsepower EFI Hydraulic Power Pack housed in the lower base of the gooseneck is capable of running the trailer hydraulics.
Other optional features include:
Auto-Shim Spreader/Pin-On Axle Booster
Pin-on 4th Axle
Brandt V10 Slingshot Booster
Removable Twelve-Degree Front Flip-Over Loading Ramps
Removable Short Deck End Ramps • Steel Swing-Out Outriggers
Removable Rear Fenders
Lift kit for third axle