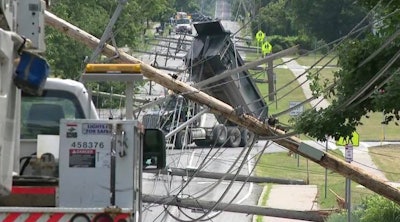 A dump truck with an elevated bed brought down power lines which trapped drivers in their vehicles and caused a power outage earlier this week in Henrietta, New York.
No injuries were reported, but the Monday incident shut down traffic and left as many as 1,200 people in the dark.
The driver, who reportedly has been involved in commercial trucking for 20 years, left the parking lot of a local high school not realizing that his bed was raised, according to the Monroe County Sheriff's Office.
The truck, owned by Farrari Excavating, struck overhead power lines which in turn brought down 15 utility poles and knocked out power to Rush-Henrietta High School and dozens of homes. It took about two hours to free the truck driver along with four other people who were trapped inside their vehicles.
As of 11 p.m. EST tonight, the sheriff's office reported on its Facebook page that power restoration efforts would continue overnight.
The accident stirred up plenty of comments and discussions about truck safety.
"This isn't the first time trucks with hydraulic lifts have taken down wires and or hit bridges," one user posted on Facebook. "Seems logical that with a hydraulic action is taking place there would be an audible alarm while active, like a backup alarm. Just sayin…"
It looks as though this wasn't the first time a raised dump bed has gotten headlines in the area.
"Same thing happened over in Gates on Buffalo Road. Truck coming out from the plant and his box was up. That was about five or so years ago," wrote another.