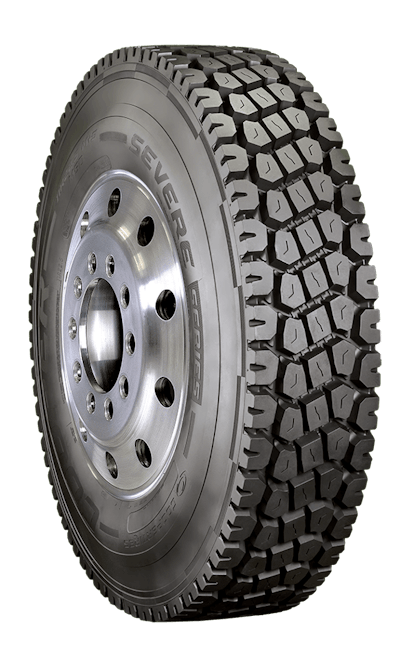 From hard paved surfaces to deep gravel, sharp rock and soft dirt, it's never an easy day when the rubber meets the road on vocational trucks.
Cooper Tire has expanded its Severe Series truck tires with a new, deep tread Mixed Service Drive (MSD) tire to help off-road trucks cope with these conditions. Debuted at SEMA this year, the new MSD tires' full one-inch deep tread gets aggressive traction in soft underfoot conditions while also delivering long, even wear when your truck is hustling down paved roads.
Rubber compounding that shrugs off scrub, cut and chip dangers improves the service life on the new Cooper MSD tires. Triangular rubber tie bars built into the outside shoulder of the tire promotes traction while also reducing heal-toe wear. Stone ejectors in the lateral grooves at the bottom of the tread kick out rocks that could embed in the tire and ruin the casing. And protecting the casing in this way also increases your changes of multiple retreads.