---
Editor's note: Collector's Corner is an ongoing series of articles by Equipment World in which collectors of antique construction equipment and construction models talk about their favorite finds. If you've got a special piece of vintage equipment or a model you'd like featured, email Don McLoud at DonMcLoud@randallreily.com.
---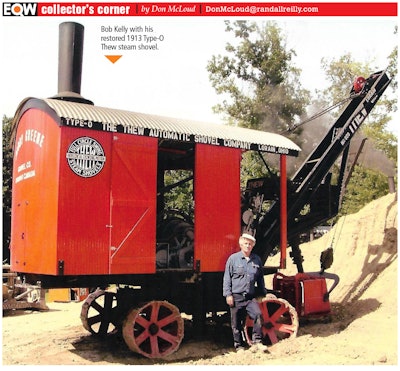 Bob Kelly was covered with soot sitting on a bale of straw when he first heard about the old steam shovel sitting on a farm at the end of a dead-end road.
He was tired and hot from working on his Erie B steam shovel at a Historical Construction Equipment Association show in Lapeer, Michigan, when a young man approached.
"Would you be interested in another one of these?" the man asked.
"Another what?"
"Steam shovel."
Kelly hurried the man to the side out of earshot from other collectors to find out the details, thinking it was nearby in Michigan. The man didn't know anything about the steam shovel other than he had seen it when visiting his sister in Brantford in Ontario, Canada. He agreed to ask the owners if they would be willing to sell.
Being approached about old shovels is a frequent occurrence for Kelly, of McDonald, Pennsylvania. He and his sons and grandsons have a passion for finding and restoring the old machines, be they powered by steam, electric or gasoline. They've been willing to trek deep into the woods, conduct Google Earth searches and dismantle decrepit shovels to bring them home. The owners are frequently shocked Kelly can remove the shovels much less retore them. That just drives Kelly on.
"People say you'll never get that running. Well, that's a challenge to me. I'm bound and determined that I'm going to make it run again," he says.
"And we do."
As to the old shovel at the farm in Canada, he didn't hear again from the young man for quite a while but eventually got a phone call informing him the owners would probably sell it.
"So boy, we jumped in the truck and went up and talked to the people," Kelly says.
The owner had kept it on the farm for years and wouldn't hear any talk of selling it. After he died, though, his daughter was willing to entertain an offer.
The old shovel's wheels had sunk deep into the ground. The wooden house was rotted, the boiler was shot. In the process of jacking up the frame, Kelly was able to see the serial plate. "Then I knew right away what it was," he says.
The shovel is a 1913 Type-O model by the Thew Automatic Shovel Company of Lorain, Ohio. It was designed by Captain Richard Thew, who was an ore boat captain on the Great Lakes. He is credited with inventing the first fully rotating steam shovel in 1895. The Type-O was one of the smallest of Thew's models. He designed it with a horizontal crowd, which gives the bucket a horizontal movement before curving up. This prevented the bucket from tearing up the wooden docks – as did the prevailing buckets of the day – when loading and unloading ore.
It was also thought that no Type-O's had survived.
"Nobody knew about it," Kelly says. "It was on a dead-end road. And the guy would never even talk to anybody about selling it or anything."
Kelly learned that the shovel was sold to the town of Brantford in 1913, and he has a photo of it from that year being used to build the town's first post office. After getting it home in 2000, Kelly and sons and grandsons spent about two years restoring the shovel. It became one of his main projects after retiring from Consolidated Coal, where he ran heavy equipment. Today, the shovel runs like new, but it's not like operating modern construction machinery.
The operator has to stand. "They never put a seat on them," Kelly says. "You had to be tough back in those days."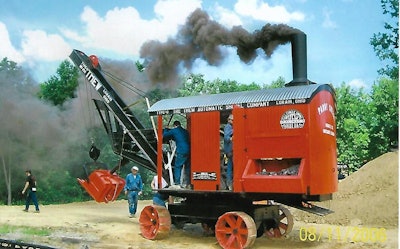 It needs about 100 pounds of steam to run it, which can take anywhere from 45 to 90 minutes to get the fire hot enough, depending on how cold the water is when starting.
The wheels easily sink into the ground, so two workers would stay on the ground to lay planks down to ride over. The "fireman" kept the fire going and the 200-gallon water tank filled.
The operator has a lever each for the swing, crowd and hoist engines and one for the master clutch. A hoist foot brake was used to stop the 5/8-yard bucket.
Steering is controlled by one of the ground crew by turning a crank at the back of the machine.
These days Kelly's son and grandsons mostly do the operating. Kelly prefers the restoration work. Every day he's in the shop on his son's property. The time just flies by, he says. Some days he doesn't even stop to eat.
"My enjoyment now is just taking something that hasn't run for 50, 60 years or longer and bringing it back to life."
He's also ready at any time to jump in the truck to check out a new find.
For years, he had the only Type-O, it was believed. But this year, one was discovered after the dam burst on Wixom Lake in Michigan, revealing one that had been underwater since 1925. Mike Oberloier who found the 1901 Thew Type-O steam shovel is planning to restore it. He's been to visit Kelly and his shovels, and Kelly and his crew were onsite to help remove the newly discovered shovel October 24 from the dried lakebed. He's also been advising Oberloier on how to restore the old machine.
His advice to those interested in restoring an old shovel:
"You can't get in a hurry. You have to take time and patience to free stuff up, because if you break something, there is no parts bin somewhere."