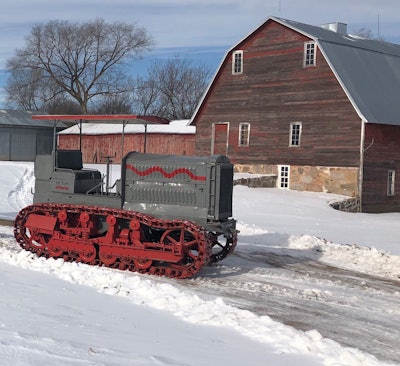 Scott Vouk was 6 years old in 2001 when the Holt Caterpillar 10-Ton tractor was auctioned off.
It was sold along with all the other equipment at the Vouk family's antique steam show after his great uncle passed away.
Now at age 25, Scott has managed what many of his relatives didn't believe possible – bringing the century-old tractor home.
"I've been after Dad for quite a while to try and get this machine back," he says.
The Holt was purchased in 1938 by Scott's great uncle William Vouk Sr. for the family threshing and sawmill business that Scott's great-grandfather ran until he died in 1931. The early-1920s model tractor had already seen about 15 years of hard work before that. A construction company used it for plowing snow off roads in the St. Stephen, Minnesota, area where the Vouk family put down roots over 100 years ago.
The Holt replaced a Case 80-horsepower steam engine the family business had used since 1917. Scott Vouk's grandfather John Vouk overhauled the gasoline engine on the Holt and put a custom canopy on it.
His great uncle threshed from farm-to-farm with the 10-Ton until the late 1940s. He continued using it for sawing lumber into the mid-1950s. A belt was stretched between the Holt's pulley and the sawmill to power the sawmill plate.
In 1965, the Holt Caterpillar 10-Ton got new life as one of the antique machines in William Vouk's steam show. The show grew into an annual attraction for the St. Stephen area, expanding to a two-day event where visitors could see late 19th and early 20th century threshing and sawmill operations.
"From 1965 to 2001, that Cat was used every year at the show for threshing, or they had it on the sawmill every once in a while, as well," Scott says. "And they pulled steam engines out with it every year."
Holt to Holt
At the auction in 2001, the sale of the Holt Caterpillar 10-Ton resulted in another homecoming of sorts.
It was bought by Ben Holt, a descendant of Benjamin Holt, who patented the crawler-type tractor in 1904. He named it the Caterpillar.
Benjamin Holt co-founded the Holt Manufacturing Company, which produced the 10-Ton. The 40-horsepower tractors were launched in 1917 for military use during World War I, and a commercial version came out later. Holt Manufacturing merged with C.L. Best Tractor Co. in 1925 to form the Caterpillar Tractor Co.
The tractor auctioned off by the Vouk family changed hands again in 2013. Holt Texas purchased the tractor when Ben Holt sold his business. The tractor was then stationed at the Holt Cat dealership headquarters in San Antonio, Texas.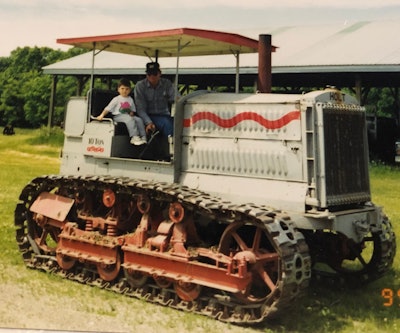 Meanwhile, Scott Vouk was growing up in St. Stephen, developing his skills as a mechanic and becoming a machinist.
He also developed a love for antique machinery and how it intertwined with his family's history. Each spring and fall, the family still starts up the old sawmill. Relatives and friends haul over logs to cut into lumber for making deer stands and decorative items.
What does he like about the old machinery?
"The noise," he says.
"When you hear a steam engine run on the sawmill, it's just the coolest sound in the world."
He's been told by relatives that when the Holt 10-Ton was working the sawmill they could hear it four blocks away when they were at school and the windows were open.
"And that's no kidding," Scott says. "Because when my dad went to that same grade school, you could hear them when they started the Holt to pull steam engines and tractors out for the steam show in October and September."
Holt to Vouk
Though he was young when the Holt Caterpillar 10-Ton sold at auction, he has a single memory of the tractor.
"A friend of ours was giving me a ride on it for my first time," he says. "And I remember that ride. I was pretty scared of the flywheel spinning by my feet."
He also has the first poster for the Vouk steam show, held in 1965. It features the 80-horsepower Case and the Holt Caterpillar 10-Ton. It hangs today in his living room.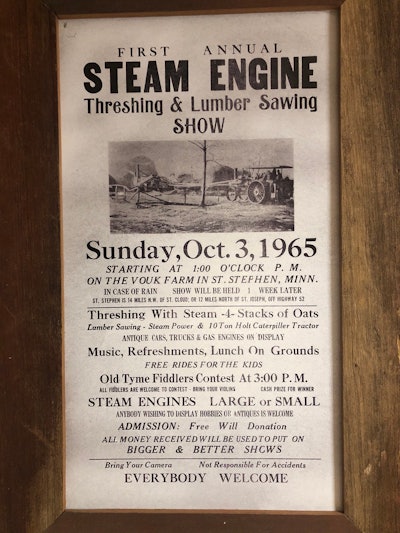 As time passed after the 2001 auction, the family began reacquiring the antique equipment. They bought back the old 80-horsepower Case that Scott Vouk's great-grandfather purchased in 1917. He and his father are currently restoring it.
They also bought back the steam show grounds and are working to renovate them.
Scott wanted to find the Holt Caterpillar 10-Ton. He searched and found a photo of it in 2018 in front of the Holt Cat dealership where it had been since 2013. Scott's father figured it was a lost cause, that the owners wouldn't want to part with it and the roller frame would need lots of work because of the many miles on it.
"I just got sick of hearing that, I guess you could say, so I just went about matters in my own way," Scott says and laughs. "I tracked it down, and I called down there. And finally, I got in touch with some of the right people that knew what I was talking about, what I was trying to seek on my quest."
Soon after, his phone rang.
"Well, Scott, I've got wonderful news," he remembers the caller saying. "I talked to Peter Holt this morning, and they've decided to give you the tractor back."
Reunited
"I was excited. I called Dad right away and told him what was going on," Scott says of the call from Holt Cat in November.
"And he didn't believe me."
But he soon did. On January 18, Scott, his dad and other family members made the trek from Minnesota to San Antonio to pick up the old Holt Caterpillar 10-Ton. There they met Holt Cat co-owners Peter J. Holt and Corinna Holt Richter, also direct descendants of Benjamin Holt.
"It was an exciting time for us to be able to return this tractor to the Vouks," says Peter Holt. "Holt Cat understands the significance of family legacy and the equipment that helps to build it."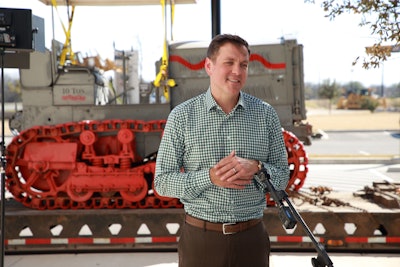 The transfer agreement was signed. The Vouks once again owned the tractor that had played a prominent role in their family history for 63 years.
Holt and Richter asked only that the Vouks donate $7,500 to a local diesel tech program. "At Holt Cat, there is a longstanding tradition of supporting the next generation of workers in our industry," Holt says.
The Vouks chose St. Cloud Technical Community College, where Scott, his dad and sister earned degrees.
"I can't thank him and his sister enough for giving this tractor back to us," Scott says.
Restoration
The Vouks hauled the tractor 1,300 miles to Minnesota. Father and son plan to get it running again.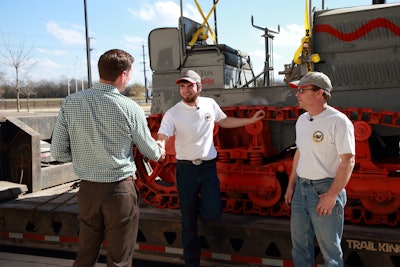 The roller frame needs attention. They will overhaul the motor, which probably hasn't occurred since Scott's grandfather did it in 1938. But all in all, Scott says, the tractor appears to be in good shape. The goal is to have it running by spring.
His cousins have been stopping by each weekend to check on the progress.
"They're all really excited," Scott says. "None of my family members thought that this was even going to be possible."
He says he plans to make sure the 10-Ton stays with the family.
"It'll be in the family as long as I'm alive," he says. "And it'll be used every year, whether it's for pulling steam engines out in the spring or putting them away in the fall – or going up to the bar on a Friday night – we're going to use it."
"It's got street pads on it," he adds and laughs. "So I plan on driving it up to the bar."