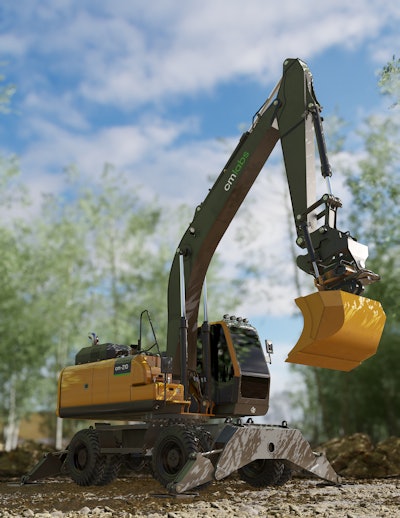 CM Labs
CM Labs Simulations will unveil its new wheeled excavator training simulation, walkaround inspection and latest instruction operating station at The Utility Expo 2023 held September 26-28 in Louisville, Kentucky.
Located at East Hall Booth 2227, the new training solutions offer the opportunity for organizations, employers, and line worker schools to address critical workforce safety, training, and recruitment issues.
"With the ongoing need for qualified labor, now more than ever before, CM Labs' customers need the best possible operator learning outcomes," said Lisa Barbieri, VP of marketing and strategic relations. "The ultra-realism of our simulation and advanced reporting insights will future-proof utility training programs and recruitment needs by addressing long-term training needs."
With proprietary and patented algorithms, Smart Training Technology is embedded in the simulator to provide training based on real data and real machines to deliver operator skills that are transferrable to real equipment, the company says.
"Our simulations ensure training teams have the flexibility to mobilize line workers efficiently. With hot swappable controls, and quick jump starts between all simulated equipment, there is less time away from the worksite and no need to take equipment off contracts," said Davis Siu, CM Labs' product manager "The authentic replication of equipment and simulated risky situations means line operators can train for safety, in safety."
Here are the details on the new product launches:
The Wheeled Excavator is the new addition to the training pack. It focuses on situational awareness to reduce safety risks within a dense urban environment The training pack includes heavy duty bucket, and narrow tiltrotator, with live attachment change exercise.
CM Labs has previously noted that the tiltrotator simulator function uses 360-degree rotation and side-to-side swivel with other excavator attachments, teaching precision grading techniques with the bucket. The company says the simulator is great training support for roadbuilding and utility contractors.
Another new addition to the training pack is the Walkaround Inspection. This feature helps train operators in the vital step that can directly impact jobsite safety and productivity. It includes training on identification and spotting issues on equipment.
Training programs can be supported with the new Instructor Operator Station, which enables trainers to monitor, assess, and engage trainees via tablet or single workstation. The station also allows for personalized learning paths, updated metrics reporting, as well as new administrator functionalities.
CM Labs offers a full suite of earthmoving and lifting equipment simulation training products for boom trucks, compact track loaders, rough terrain cranes, backhoes, forklifts, excavators and the newly released wheeled excavator.